Graduating Awards and Honours
Convocation awards are prestigious awards presented to graduating students. These awards reflect the highest academic distinction earned by a student in a faculty or program. Many are presented at the convocation ceremonies in June and November.
Awarded to students graduating from undergraduate programs.
Medals, based entirely on academic standing, are awarded at the conclusion of the winter term.
Students who graduated at the previous fall convocation are considered for convocation medals on the same basis as students who graduate at spring convocation.
Each faculty determines their definition of distinction and guidelines for selection of medal recipients, with consideration to the following criteria: grade point average, course load and the minimum number of UCalgary courses taken.
Recipients for the Governor General's Silver Medals and the Muriel Kovitz Prize are chosen by the University of Calgary Registrar's Office.
There is one gold medal awarded by each faculty to the student graduating with the highest distinction in the faculty.
There is one silver medallion awarded by each department or equivalent unit to the student graduating with the highest distinction.
The President's Award for Excellence in Student Leadership
Presented to graduating students (undergraduate or graduate) who, during their years at the university, have combined excellent academic achievement with outstanding extracurricular contributions to the university.
For details on all awards for graduating students, see the University Calendar.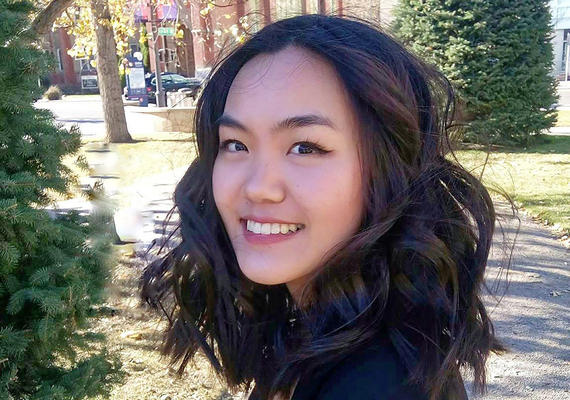 Muriel Kovitz Prize Winner
Qi Xiao
Qi's passions are for the sciences, public education, and helping others. During her undergraduate degree, she dedicated her time to serving vulnerable children and communities through leadership roles in her extracurricular activities. Qi is embracing her passions by completing a Master of Teaching degree at the University of Toronto and is aspiring to become a math and science teacher who positively influences the next generation of students. She is looking forward to expanding her pedagogical knowledge and becoming more confident in her teaching practices to better support her future students.
The Muriel Kovitz Prize is awarded annually to a graduating student from any undergraduate faculty with the highest overall GPA in their final year at the University of Calgary. Learn more.