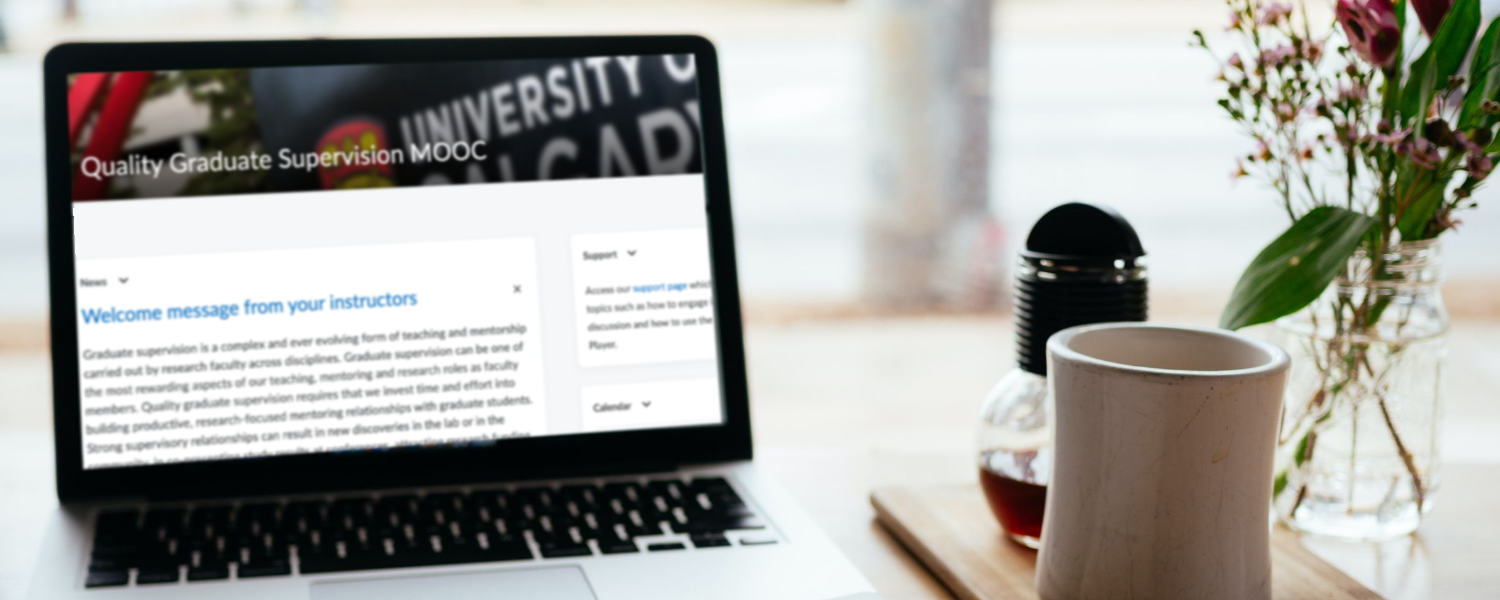 Our team's research and development on this online course for graduate supervisors has already engaged 266 academics from across 33+ disciplines, departments and faculties in transdisciplinary conversations about quality graduate supervision (Alharbi, 2018; Alharbi & Jacobsen, 2018; Jacobsen, et al, 2021). 
The QGS MOOC provides a unique opportunity for knowledge co-creation, critical conversations and idea sharing via ongoing cultural and social interactions among interdisciplinary academic colleagues and through ready access to 115 curated resources and media rich content in 56 instructional videos about graduate supervision (Alharbi & Jacobsen, 2018; Jacobsen, et al, 2021). 
In Winter 2020, we attracted 107 academic faculty and post-doctoral scholars from the University of Calgary to our six-week online course, after supporting 23 supervisors in the Winter 2017 miniMOOC pilot.
For the Fall 2020 offering of the QGS MOOC, we collaborated with Drs. Fraser and Reckseidler-Zenteno, from Athabasca University, to add one new module on Online Supervision. We attracted 55 graduate supervisors from UCalgary and AthabascaU to engage with us in an inter-institutional community of practice. For Fall 2021 offering of the QGS MOOC we engaged 81 colleagues from six Canadian Universities: at the University of Calgary, Athabasca University, University of Lethbridge, University of Regina, Queens University and Brandon University. 
It is clear that MOOCs can provide a workable solution for meaningful and relevant situated learning (Lave & Wenger, 1991) in a community of academic peers focused on improving graduate supervision practice.  Thus far, we have enabled 116 academic colleagues to complete the QGS MOOC and 102 supervisors earned the QGS Badge - a micro credential that recognizes the 21+ hours of professional learning invested in this MOOC on graduate supervision.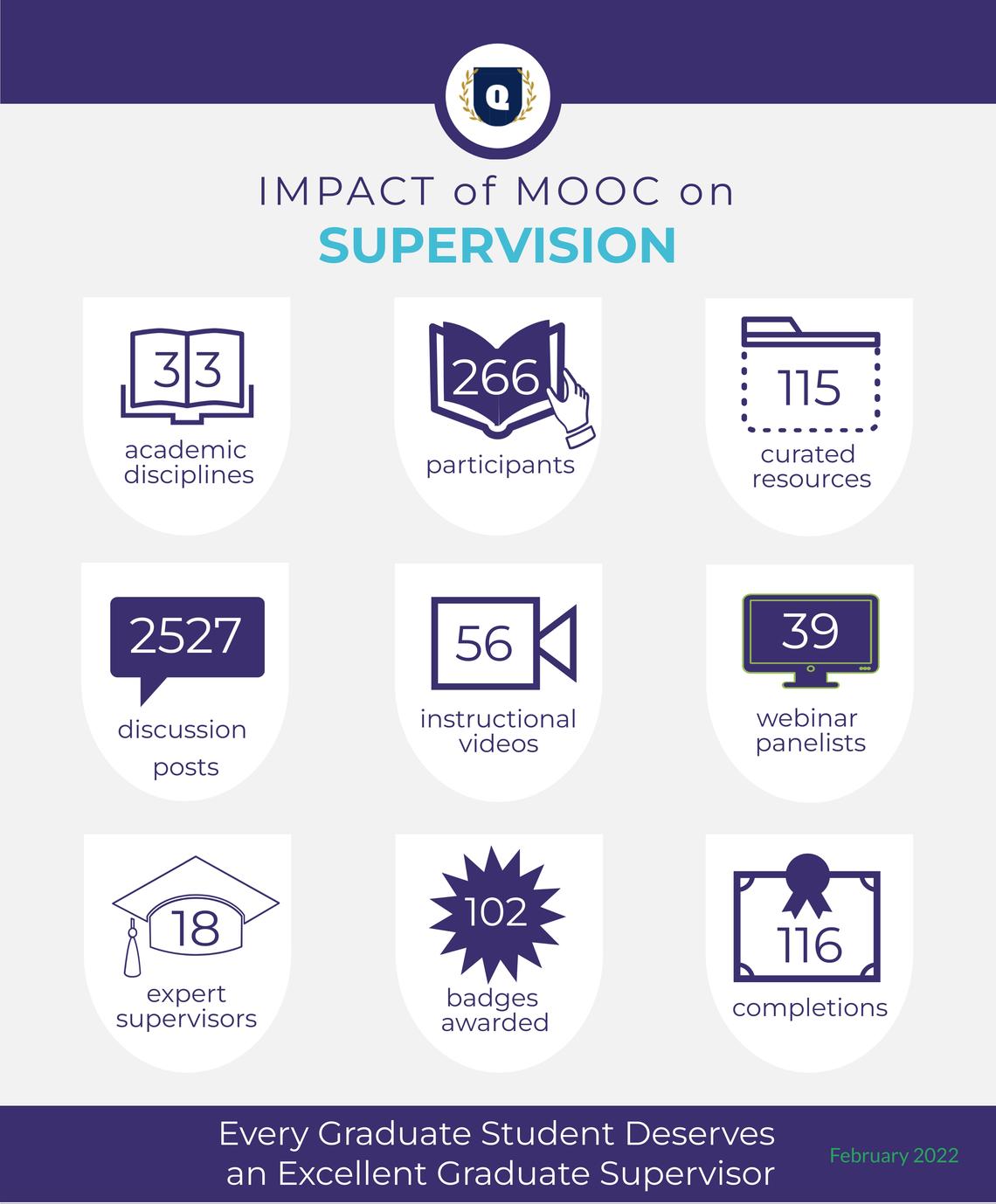 Participants Across Faculties/Disciplines
Winter 2017 Pilot

23 participants enrolled

11 disciplines:

Art
Computer science
Education
Engineering
Medicine
Nursing
Physics & astronomy
Physiology & Pharmacology
Political Science
Sociology
Veterinary Medicine

Winter 2020

107 participants enrolled

12+ disciplines:

Arts
Education
Engineering
Graduate Studies
Kinesiology
Library
Nursing
Medicine
Public Policy
Science
Social Work
Taylor Institute for Teaching and Learning
Veterinary Medicine

Fall 2020

55 participants enrolled

16+ disciplines at UCalgary and AthabascaU:

Arts
Business
Distance Education
Education
Engineering
Environmental Design
Graduate Studies
Kinesiology
Library
Nursing
Medicine
Public Policy
Science
Social Work
Taylor Institute for Teaching and Learning
Veterinary Medicine

Fall 2021

81 participants enrolled

33+ disciplines at 6 Canadian Universities:

Arts
Business
Chemistry
Computer Science
Distance Education
Education
Engineering
Environmental Design & Science
Graduate Studies
Journalism
Kinesiology
Library Science
Medicine
Neuroscience
Nursing
Public Policy
Religious Studies
Science
Social Work
Taylor Institute for Teaching and Learning
Veterinary Medicine