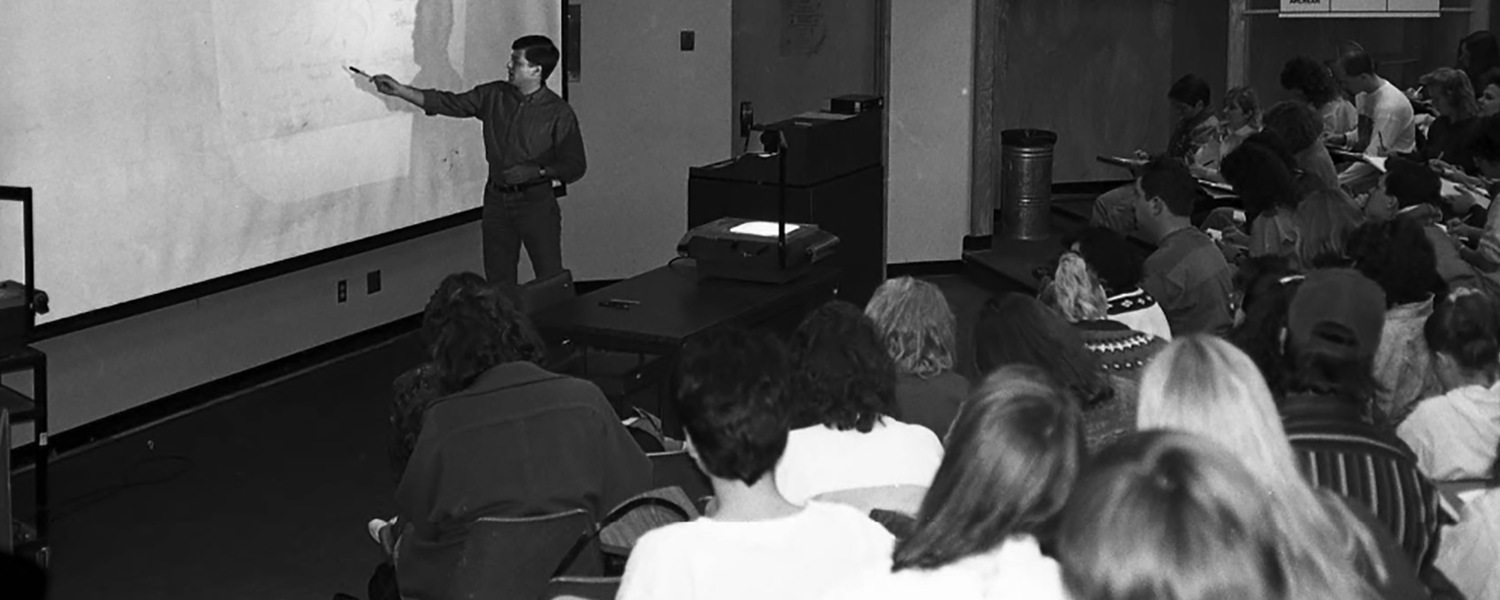 Explore 50 years of Boldness
Pioneers of Pedagogy
From our roots in the Calgary Normal School to our pre-autonomy course offerings to the establishment of the ground-breaking Taylor Institute for Teaching and Learning, UCalgary has always been at the forefront of teaching and learning.
First in Learning
Throughout our history, the campus has been a place where new approaches and methods have been sought out and adopted fearlessly. It's led to a long list of Canadian firsts, including the first Commerce degree, the first laboratory for studying the behaviour of high explosives and the first joint degree in Kinesiology and Dance.
COURSE OFFERINGS EXPANDED
Calgary University Committee announces the broad expansion of courses offered, including first-year courses leading to Bachelor of Arts, Bachelor of Science and Bachelor of Science in Nursing degrees, as well as courses required for admission to the Faculties of Law, Medicine and Dentistry.
NURSING COURSES BEGIN
Courses for first-year nursing students begin at University of Alberta in Edmonton and at Calgary Branch. Clinical portion of degree can be completed at University Hospital in Edmonton or at the Calgary General Hospital.
HANDS-ON MEDICAL TRAINING PROPOSED
Calgary University Committee recommends medical and nursing schools in coordination with proposed new hospital. The hospital is the Foothills General Hospital, and it eventually opens in 1966.
NIGHT STUDIES OFFERED
The forbearer to Continuing Education, this fledgling program includes courses on "Principles of Gardening," "Conversational French" and "Law for the Layman."
ENGINEERING, IN THE NICK OF TIME
Classes begin in September for first-year Bachelor of Science (Engineering) courses. Classes take place in a wartime wooden barrack. A week later, the space age begins with the launch of Sputnik I. Second-year courses are added in 1958.
AGRICULTURE AND HOUSEHOLD ECONOMICS ADDED
Course offering continues to expand.
UAC CREATING A SOLID RESEARCH FOUNDATION
Prolific hiring in the early years created a large talent pool of researchers and scholars. Due to the research efforts of a handful of notable scholars, this was a time in the university's history it was establishing itself in all research areas, including space research, a current area of expertise.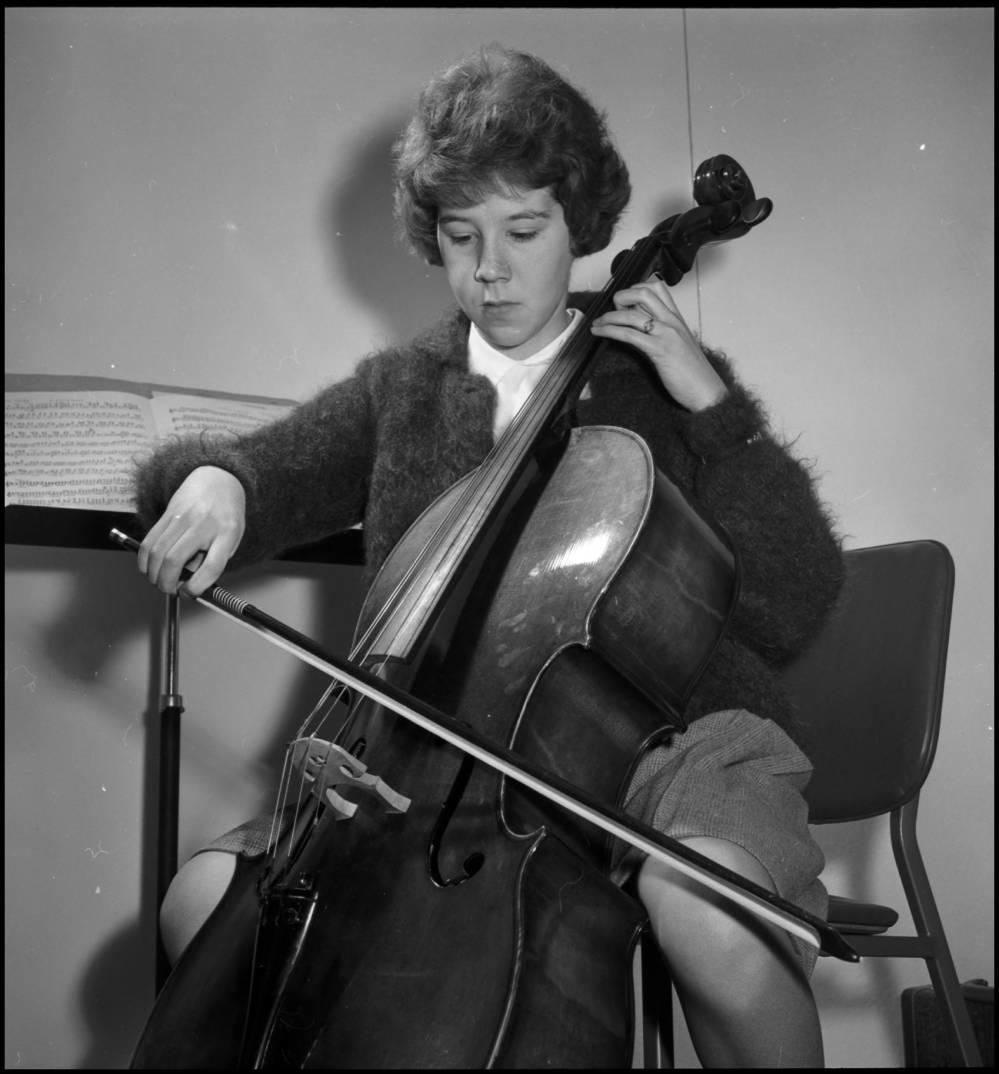 Calgary Herald
BACHELOR OF MUSIC INTRODUCED
First-year courses toward music degree begin.
DEPARTMENT OF GEOGRAPHY ESTABLISHED
J.G. Nelson is the department head. The new department falls under the Faculty of Arts and Science, where it remains until the creation of the Faculty of Social Sciences in 1977. Before 1962, Geography courses were offered within the Faculty of Arts and Science.
FULL DEGREE STUDY NOW AVAILABLE
Full degree study towards the Bachelor of Education, Bachelor of Arts and Bachelor of Science degrees was now available in most general course programs.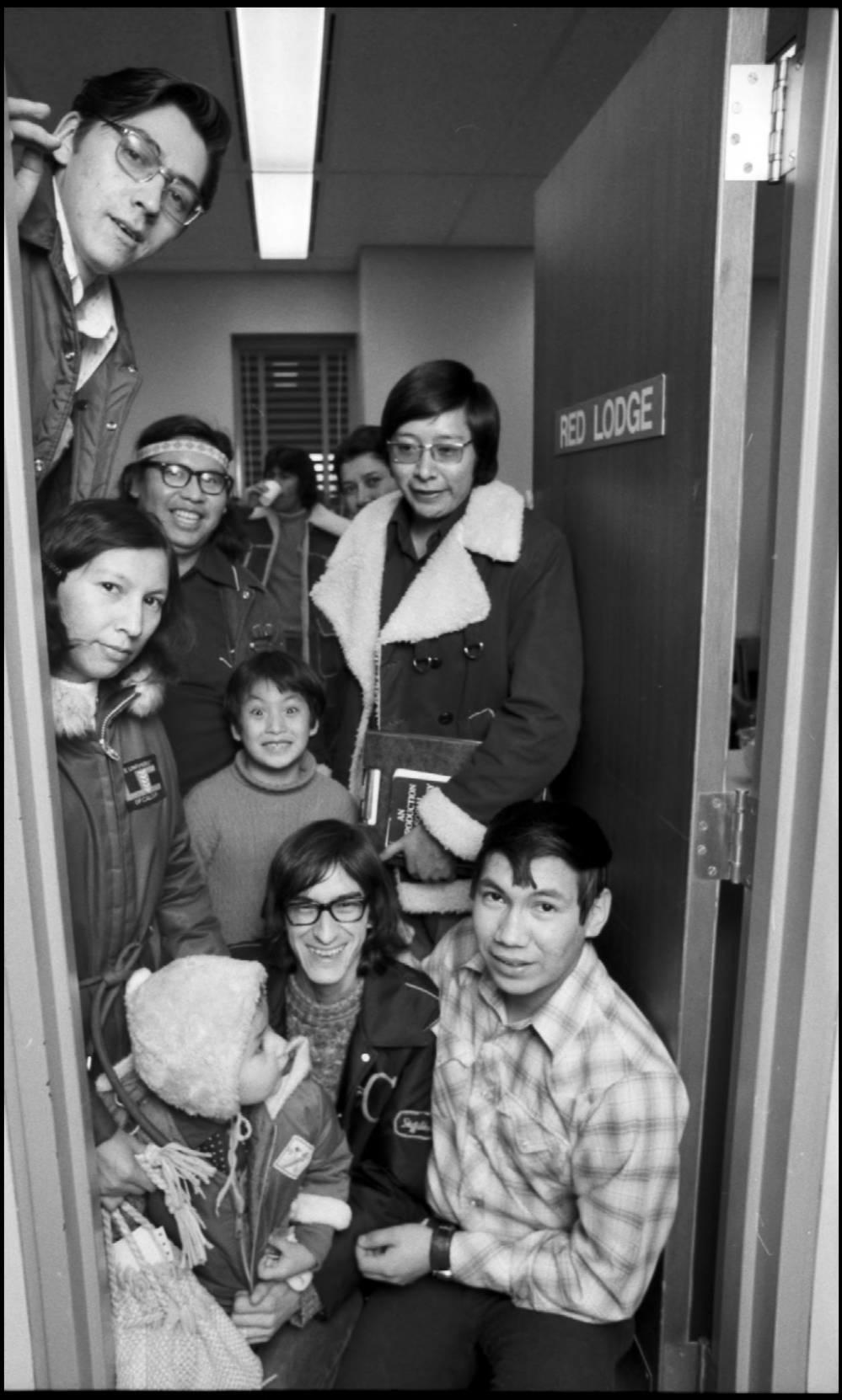 PHYSICS BALLOON TRIPS DISTANT EARLY WARNING
Physics academics launch THE balloon from Fort Providence, NWT. The large balloon intended to record the solar eclipse, it goes missing. The following month, the Distant Early Warning line radar detects an unidentified object near the Alaskan coast. It's apparently the UAC balloon.
CONTINUING EDUCATION DEPARTMENT ESTABLISHED
With a mandate to bring the resources of the university within the reach of as many Albertans as possible, the department encompassed the Evening Credit Program, the Summer Session Program and the Extension Program, which included non-credit evening classes.
KILLAM TRUSTS ESTABLISHED
$100-million endowment from the Killam Estate is divided between the University of Alberta and UAC. Three Killam Memorial Chairs are established, along with pre- and post-doctoral fellowships and Senior Fellowships at both institutions
COMMERCE DEGREE ANNOUNCED
New four-year program is first of its kind in Canada. The announcement means students will no longer have to complete their degrees in Edmonton.
UAC TV AS TEACHING TOOL
Dr. Louis Hamill, UAC's audio-visual committee chairman, regards TV as "neither a cheap nor an entirely satisfactory means of overcoming the shortage of university lecturers."

AUTONOMY WON
The Universities Act of April 1966 grants autonomy to the University of Calgary, severing its ties to the University of Alberta in Edmonton.
STUDENTS PROTEST LIBRARY HOURS
700 students stage a sit-in to demand longer library hours. University officials serve pop and doughnuts. As a result, library hours are extended on a limited basis. In 1967, library hours are extended permanently.
MASTERS IN SOCIAL WORK PROGRAM ANNOUNCED
University of Alberta supported the creation of a Social Work degree in Calgary. In exchange, the Library Sciences program is established in Edmonton and not Calgary.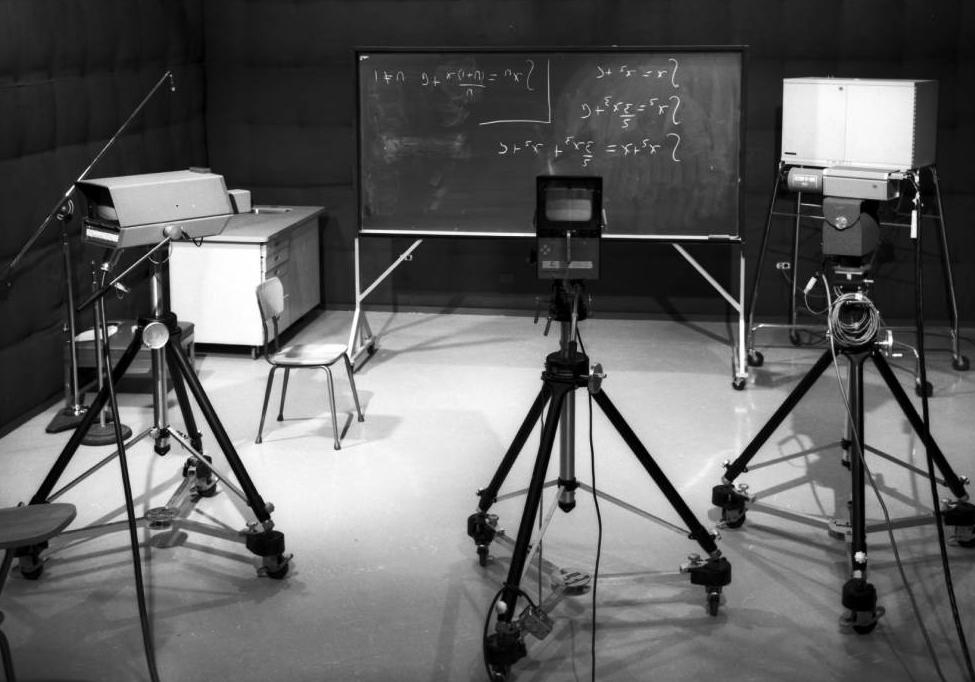 Neil Chrichton
ENVIRONMENTAL SCIENCES CENTRE OPENS IN KANANASKIS
Now known as the Barrier Lake Field Station at which researchers continue to study the natural environment and human impact on it.
GFC APPROVES FACULTY OF FINE ARTS
The union of Art, Music and Drama under one faculty umbrella is the first of its kind in Canada.
HUB OF DATA
The UCalgary Data Centre is located on the fourth floor of the library and houses a System 360, Model 30 computer which is capable of remembering 65,536 facts. With four magnetic tape drives it's capable of reading 1,000 key-punch cards per minute and runs 24 hours per day.
FACULTY OF BUSINESS ESTABLISHED

Initially called the Faculty of Commerce, the new faculty begins operations with no staff or space and little budget, but it finds support in business community to provide part-time instructors.
COMPUTER COURSE OFFERED
One of several extension courses offered in the spring of 1968 is: "What is a Computer?" The course is for people who are considering taking further courses in computer programming, or just want to know what a computer is, and what it can do.
RESEARCH CENTRE FOR CANADIAN ETHNIC STUDIES ESTABLISHED
Established by members of the Germanic and Slavic Studies Department. The Centre begins publishing "Canadian Ethnic Studies," a leading ethnic studies journal, in 1974.
INDIAN STUDIES GROUP ESTABLISHED
An ad hoc group of Faculty of Education researchers are engaged by the federal Department of Indian Affairs and Northern Development to conduct a study of educational needs of "Indian and non-Indian students" in southern Alberta.

EXPLOSIVES AND HIGH-PRESSURE RESEARCH LABORATORY BEGINS OPERATION IN OGDEN
Used for studying behaviour of high explosives; believed to be the only university facility of its type in the country. Developed with help from Canadian Industries Limited (CIL).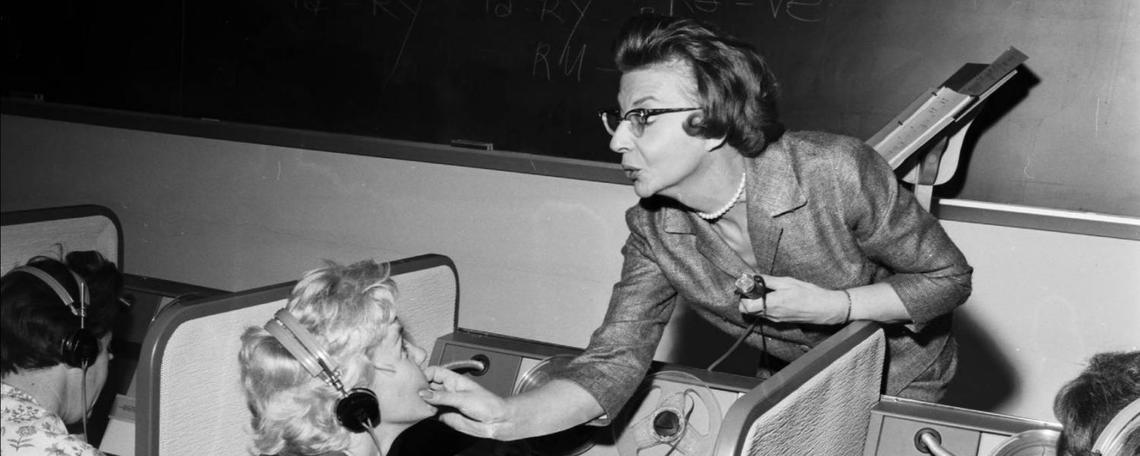 ÉCOLE D'ÉTÉ
Faculty of Education offers intensive French courses during summer session. UCalgary is the only recognized centre in western Canada to use the Voix et Images de France method. Prof. Jacques Paquet from France directs the courses.
FACULTY OF ENVIRONMENTAL DESIGN ESTABLISHED
This precipitated a fierce fight with University of Alberta, which intended to do the same. First-year students accepted the following year.
INAUGURAL BANFF SCHOOL OF FINE ARTS FESTIVAL HELD
Consists of drama and musical performances, lectures, films, and displays of painting, photography, ceramics and weaving.
CDC-6400 KRONOS COMPUTER SYSTEM INSTALLED

UCalgary becomes the first university in the world to install the system. It is housed under constant temperature in a dust-free, 1000-square-foot area and can perform one million additions or subtractions per second.
PROGRAM ESTABLISHED FOR INDIGENOUS STUDENTS
In an effort to increase the number of indigenous teachers, the Indian Students University Program was established, which enrolled forty non-matriculated first-year students in the B.Ed. program. The program was expanded to Morley and Hobbema.
FACULTY OF ARTS AND SCIENCE SPLIT
Growing pains and efficiencies are at the forefront of this important decision.
CONFERENCE ON THE CANADIAN NOVEL
Chief Librarian Kenneth M. Glazier, "while heretofore such conferences would have been held in Toronto or the Eastern area, it was now Calgary which could host such a gathering."
1978 - Banff School of Fine Arts Becomes Autonomous from the University of Calgary
University involvement in Banff can be dated to 1933 when an experimental theatre program was run out of Banff School Board facilities.  The Banff School of Fine Arts evolved from these small beginnings as a department of the University of Alberta offering Fine Arts courses in painting, piano, choral work, creative writing, weaving, design and pottery.  Helen Stadelbauer, a founding member of the University of Calgary's Department of Art attended courses at the Banff School in the late 30s and early 40s.
Courses were originally offered during a summer program, but as the caliber of instructors grew, the School expanded into a year-round centre for Fine Arts.  The infrastructure also kept pace with the growth of the School with residences, teaching and performance spaces being built during the 60s and 70s.  The Banff School of Advanced Management came into being in 1952, and although an independent organization, shared space with the School of Fine Arts in what became known as the Banff Centre for Continuing Education, or Banff Centre. 
Stewardship of the School was transferred to the University of Calgary when the UofC became autonomous in 1966.  The University of Calgary acted as trustee for the Banff Centre which involved….
The Banff Centre gained its own autonomy from the University of Calgary in April 1978 when the Banff Centre Act proclaimed it as an independent, non-degree granting institution.  The Centre's mandate involved "providing to the public the opportunity of access to a broad range of learning experience with emphasis on the fine arts, management studies, language training and environmental training."
Source material – UARC 84.006 and https://www.banffcentre.ca/history-banff-centre-arts-and-creativity
Graphic – Helen Stadelbauer #53 "Banff School of Fine Arts" 97.023
GRADUATE COURSES OFFERED OUTSIDE CALGARY FOR THE FIRST TIME
For the first time in UCalgary's history, graduate studies courses are offered outside of Calgary. The first is Master of education courses offered to students in Medicine Hat.
MASTER OF COMMUNICATIONS STUDIES BEGINS
The program is created out of a corporate base in Calgary that needs professional communicators. The director of the program, Thomas McPhail, declared, "this university is young enough to have a vested interest in the program—to move in on a communications society."
CANADIAN CENTRE FOR LEARNING SYSTEMS OPENS AT PARKDALE SCHOOL

A joint effort of the University of Calgary, Mount Royal College, SAIT, the two school boards, the federal government, Honeywell Canada and Reid Chartwell Canada. Its mandate is to "provide a setting for the development, evaluation and use of various learning systems with an emphasis on computer assisted learning."
LIBRARY CARD CATALOGUE REPLACED BY COMPUTERIZED RETRIEVAL SYSTEM
The last of the card catalogs are removed from the MacKimmie Library as the university moves to a digital system.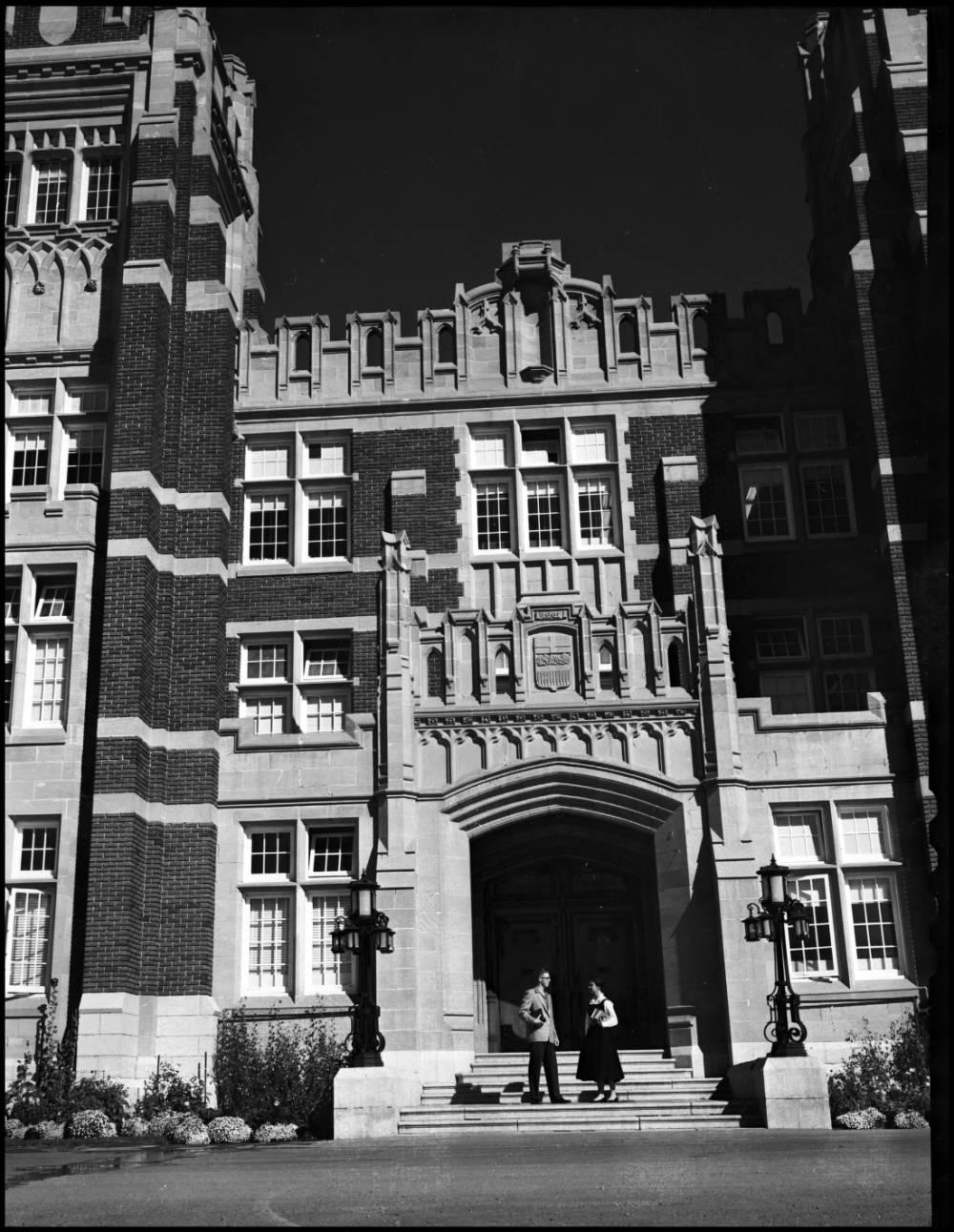 Calgary Herald
CLAVIS (CALGARY LIBRARIES AUTOMATED VIRTUAL INFORMATION SYSTEM) INTRODUCED

New system allows 24-hour public access to catalogue and links to Internet resources.
SATURDAY COURSES OFFERED
The Faculty of Continuing Education makes national headlines for innovation in education as it launches Weekend University, which offers degree-credit courses on Saturdays.
LIFE SCIENCES RESEARCH CENTRE COMPLETED
The centre is located off campus for research projects for joint repair and replacement, biomechanics, wound care and orthopedics.
LIBIN CARDIOVASCULAR INSTITUTE OF ALBERTA CREATED
The institute is established with a $15 million gift from the Alvin and Mona Libin Foundation and a $5 million gift, to establish an undergraduate educational centre in the Faculty of Medicine, from David and Gail O'Brien.
LANGUAGE RESEARCH CENTRE OPENS
A collaborative project of the Faculties of Humanities, Social Sciences and Education. It will provide research into language learning and teaching, use of technologies and developing language policies.
SCHULICH SCHOOL OF ENGINEERING ESTABLISHED
Seymour Schulich, director of Newmount Mining Corporation, donates $25 million to the engineering faculty. It is matched by the province, making it the largest donation in the university's history. The faculty is renamed and 100 new engineering scholarships are created.
CONTINUING EDUCATION GRADUATES LARGEST CLASS EVER
Continuing Education's graduating class included 413 lifelong learners who earned certificates in a wide range of programs including: 12 Management Certificate programs, Adult Learning, Career Development, Teacher Assistant, Visual Design, Web Designer, Software Development and Systems Management.
EXPERIENTIAL LEARNING MODEL EXAMPLE
Students can participate in co-curricular service-learning trips through the Centre for Service-Learning and Community Engagement. In April 2010 students went to Costa Rica to work on community infrastructure projects. Students engaged in these courses and programs demonstrate better problem-solving, critical thinking and reapply their new knowledge in different settings.
2011 - The Taylor Family Digital Library (TFDL) Opens
The Taylor Family Digital Library (TFDL) opened in 2011 and continues to be one of the most technologically advanced academic libraries in North America. 
The state-of-the-art learning and research centre is a model for the 21st century library, and an important new gathering place for students, faculty, staff, alumni and the broader Calgary community.
The Taylor Family Digital Library's combines a library, art gallery, archives, rare collections and the latest digital tools for learning and research, all using the most advanced technology available.
Retro gaming collection
Housing the largest retro gaming collection in Canada, a special area allows you to step back into the gaming world of the 1970s and 1980s and try your hand at everything from a Telegames Pong system to new classic-style games such as Guru Meditation played on the ATARI using a balance board peripheral, in a space designed so the user can take full advantage of the motion sensing capabilities.
Floor-to-ceiling high-resolution screen
In the visualization room professional research can be displayed in detail on a floor-to-ceiling, wall-to-wall high resolution screen with high quality surround sound. Astronomers explore deep space and the mysteries of the Aurora Borealis in detail and geologists can map out soil sample data and discover new patterns.
Access to digital images
For the visual and performing arts enthusiasts, students can access over a million licensed digital images and 67,000 images in the Library's own collection. Suites allow small group or individual work in editing, shooting film, animation 3-D rendering, and sound. A hardware "sandbox" includes a large touch table and digital globe on which students project their research on anything from immigration patterns to climate change and ocean currents and musical influences.

Only five years ago, Don and Ruth Taylor—longtime friends and supporters of the University of Calgary—donated $25 million to help construct a new digital library.
"We are thrilled that this beautiful building will provide education and inspiration to a whole new generation of students, and will help shape the future of learning whether they are studying fine arts or molecular biology," said Don Taylor.
"It is through education that we truly have a chance to make the world a better place, and education comes from hard work, study and often long hours in the library," said Ruth Taylor.
The Government of Alberta matched the Taylor family's donation through its matching gifts program and also allocated additional funds, for a total of $150.5 million.
"This library will provide Albertans, young and old, the space and support to further their learning with the latest technology and information resources," said Alberta Premier Alison Redford. "My government is a proud partner in this important new addition to the Calgary community."
The Government of Canada provided $27 million in capital funding for the Taylor Family Digital Library project (Taylor Family Digital Library plus High Density Library) through the Knowledge Infrastructure Program.
"Our government's investments in college and university infrastructure have created and maintained jobs across Canada," said Blake Richards, Member of Parliament for Wild Rose. "This project will allow the University of Calgary to strengthen its reputation as an innovative leader in our community and across Canada."
The City of Calgary's Calgary Arts Development Agency supported the Taylor Family Digital Library with $3.2 million towards the relocation of the Nickle Galleries to the library.
Calgary Mayor Naheed Nenshi said, "The Taylor Family Digital Library provides Calgary with a new hub for cultural resources. An impressive array of books, journals, special collections, art, and artifacts will be exhibited and accessed in new cross-disciplinary ways."
As part of the Taylor Family Digital Library project, the university also created the Taylor Quadrangle, a new outdoor community gathering space immediately adjacent to the library, and built the university's first High Density Library, located off the main campus at Spy Hill. The High Density Library is a new facility that houses approximately 60 per cent of the university's current book and journal collection, in addition to a significant portion of archival holdings. The total project – including the Taylor Family Digital Library, the Taylor Quadrangle, and the High Density Library – was funded by the Taylor family and all three levels of government, at a cost of $205 million.