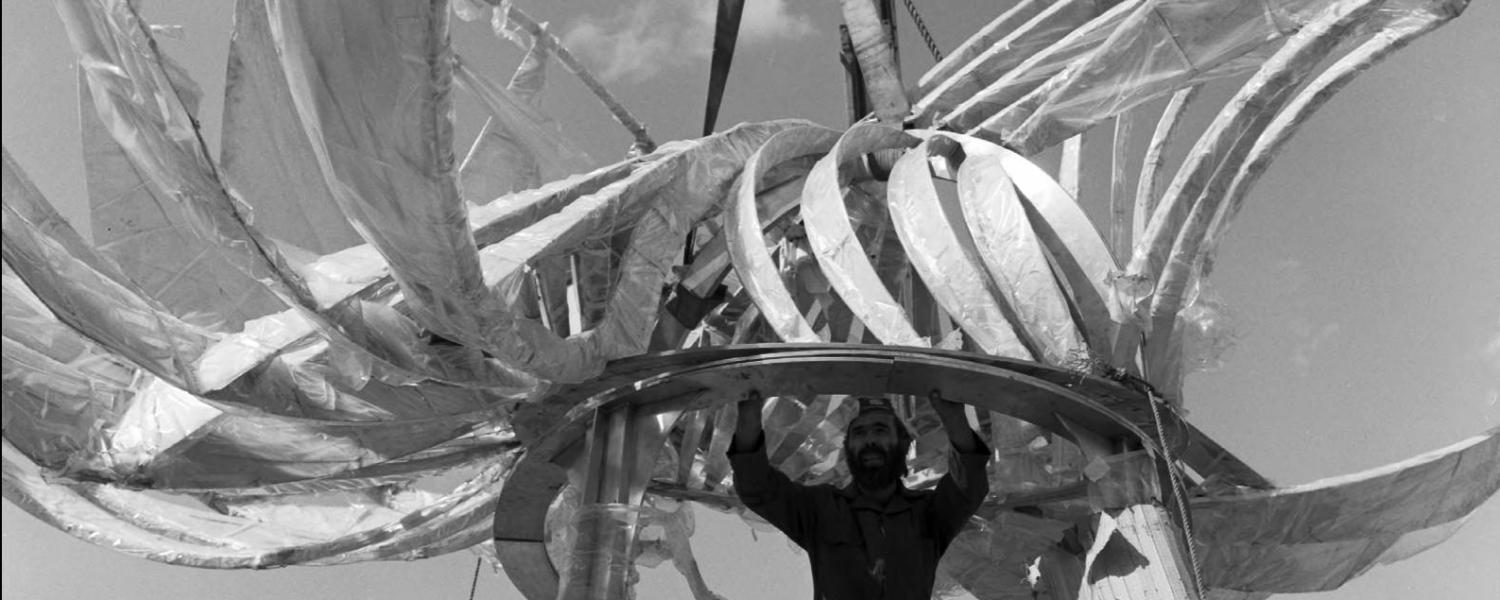 Explore 50 years of Contribution
Beacon of Free Thought
Much like the welcoming, hospitable spirit that characterizes the West, UCalgary is known for its innovation and open-door policy on differing ideas and points of view. Since our beginnings, those characteristics have attracted a wide array of leading thinkers and academic pioneers, drawn to the prospect of contributing to the culture and personality of this place.
A Hotbed of Arts, Culture and Heritage
From our rich Aboriginal heritage to our début as Cultural Capital of Canada in 2012, Calgary exudes community and artistic pride through jaw-dropping festivals, world-class performing groups and facilities, and one of the highest cultural investments per capita in Canada. This incredibly diverse community speaks dozens of languages, unites cultural practices from around the world, and presents unique opportunities for those providing support services on campus and around the city.

J.W. GRANT MACEWAN LOSES ELECTION IN MANITOBA
MacEwan had resigned as Dean of Agriculture at the University of Manitoba to run in a federal by-election in Brandon. After his loss, he moves to Calgary. MacEwan becomes an important personality associated with UCalgary in his capacity as alderman, MLA, mayor and Lieutenant-Governor of Alberta.
JUBILEE AUDITORIA ANNOUNCED FOR CALGARY AND EDMONTON
The auditoria are built on or adjacent to the campuses of University of Alberta and UAC. Jack Simpson, future namesake of the Jack Simpson Gymnasium, is involved in the construction of both auditoria. Convocations for UAC and, subsequently, UCalgary, take place at the Southern Alberta Jubilee Auditorium until they are moved to the new Jack Simpson Gymnasium in 1987.
FIRST BERMUDA SHORTS DAY IS HELD
A freshman, wanting to wear his colourful new shorts and to celebrate spring, wrote "Tomorrow is Bermuda Shorts Day—everyone wear Bermuda Shorts" on a school blackboard. A tradition is born.
CFCN BEGINS BROADCASTING
Station later becomes a charter member of CTV network as CTV Calgary.
CJSW TAKES TO THE AIR
Beginning in the basement of the arts and administration building, using home-built and donated equipment, the campus radio station officially became Calgary's 13th FM station in 1985.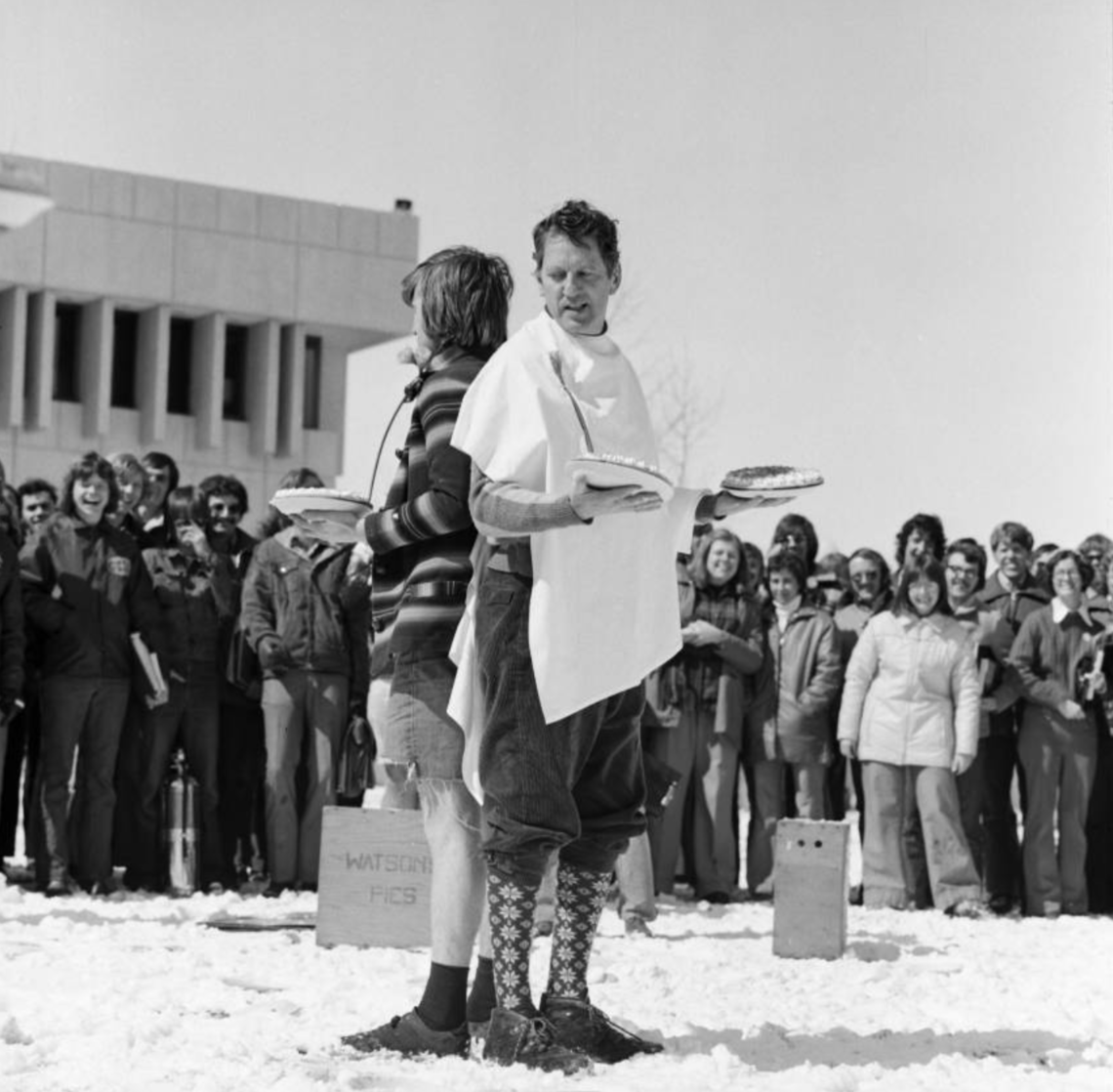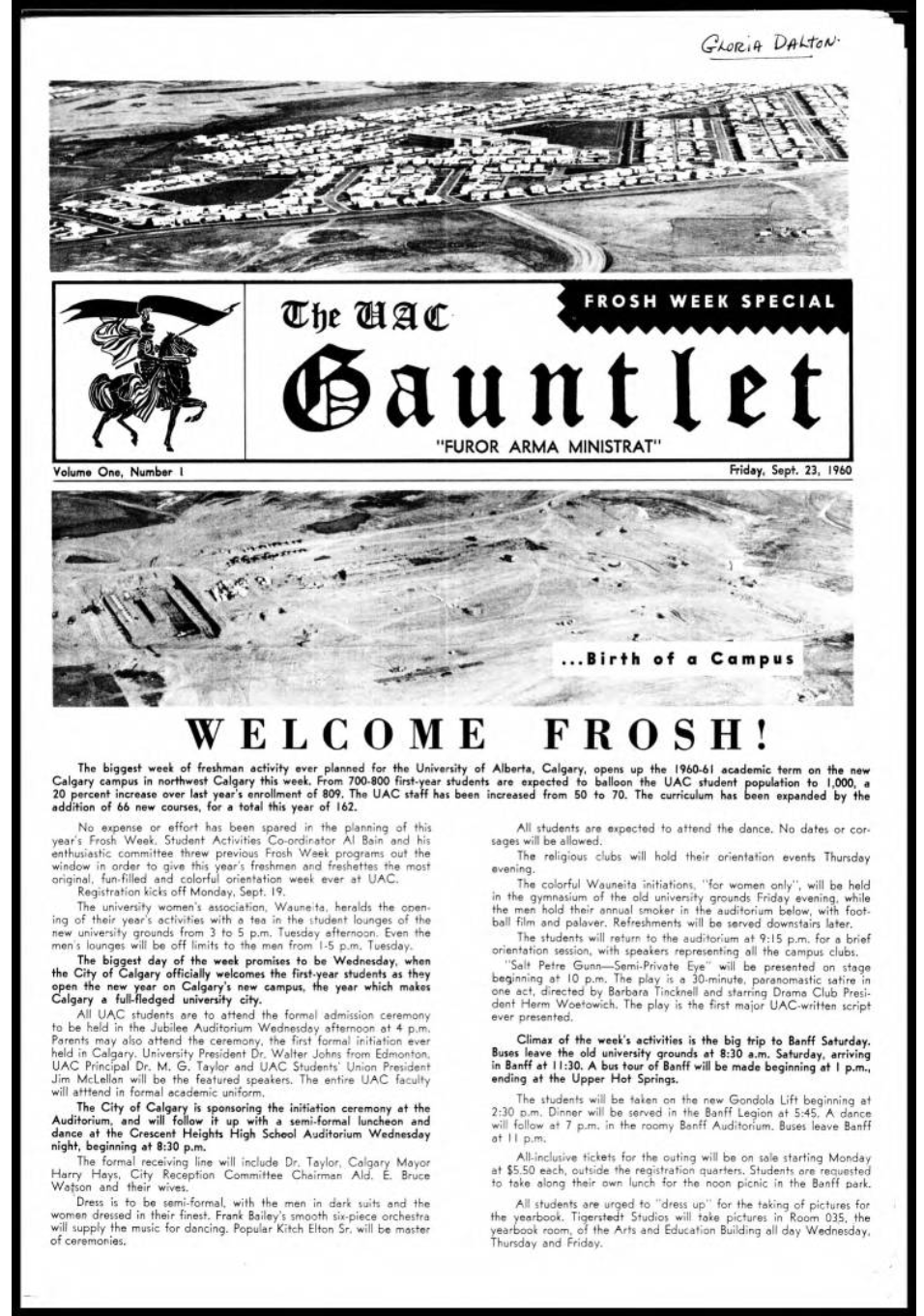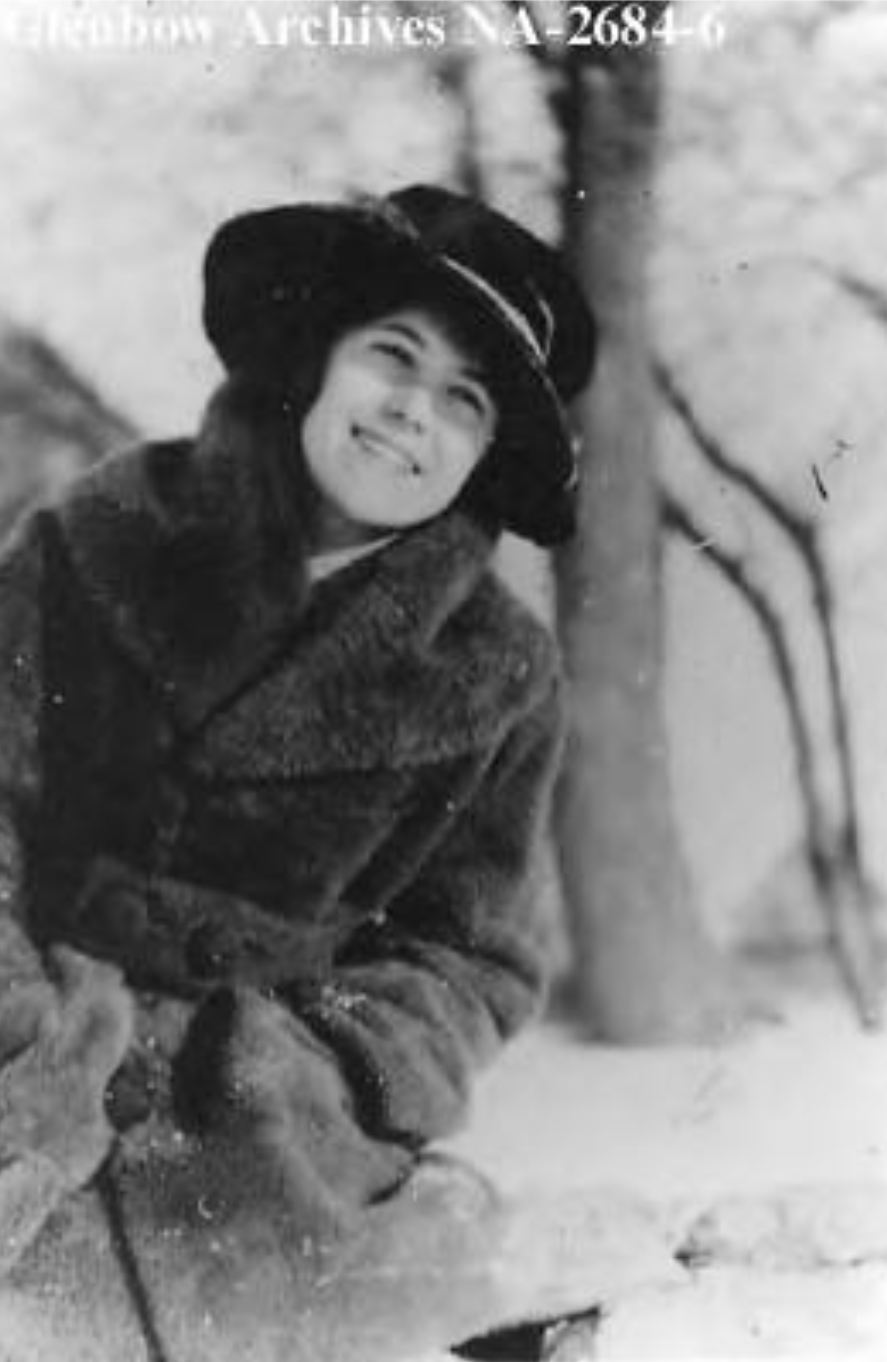 CJSW TAKES TO THE AIR
Beginning in the basement of the arts and administration building, using home-built and donated equipment, the campus radio station officially became Calgary's 13th FM station in 1985.
THE GAUNTLET BEGINS PUBLICATION
The first issue is published Sept. 23, 1960. Maurice Yacowar is editor. On Nov. 11, Yacowar writes an editorial titled "Don't Buy a Poppy for Remembrance Day." The piece gets him fired.
AILEEN FISH (1898–1977) APPOINTED ADVISOR TO WOMEN STUDENTS
She remains in this position until 1964. She is later identified as the ghost of the Faculty Club.

AUTONOMY GRANTED
After a years-long campaign to sever ties from the University of Alberta, the University of Calgary is officially formed by the Universities Act.
GLENBOW MUSEUM OPENS
The university later collaborates with the museum on an exhibit based on Mavericks: An Incorrigible History of Alberta, by Aritha van Herk, to celebrate Alberta's centennial.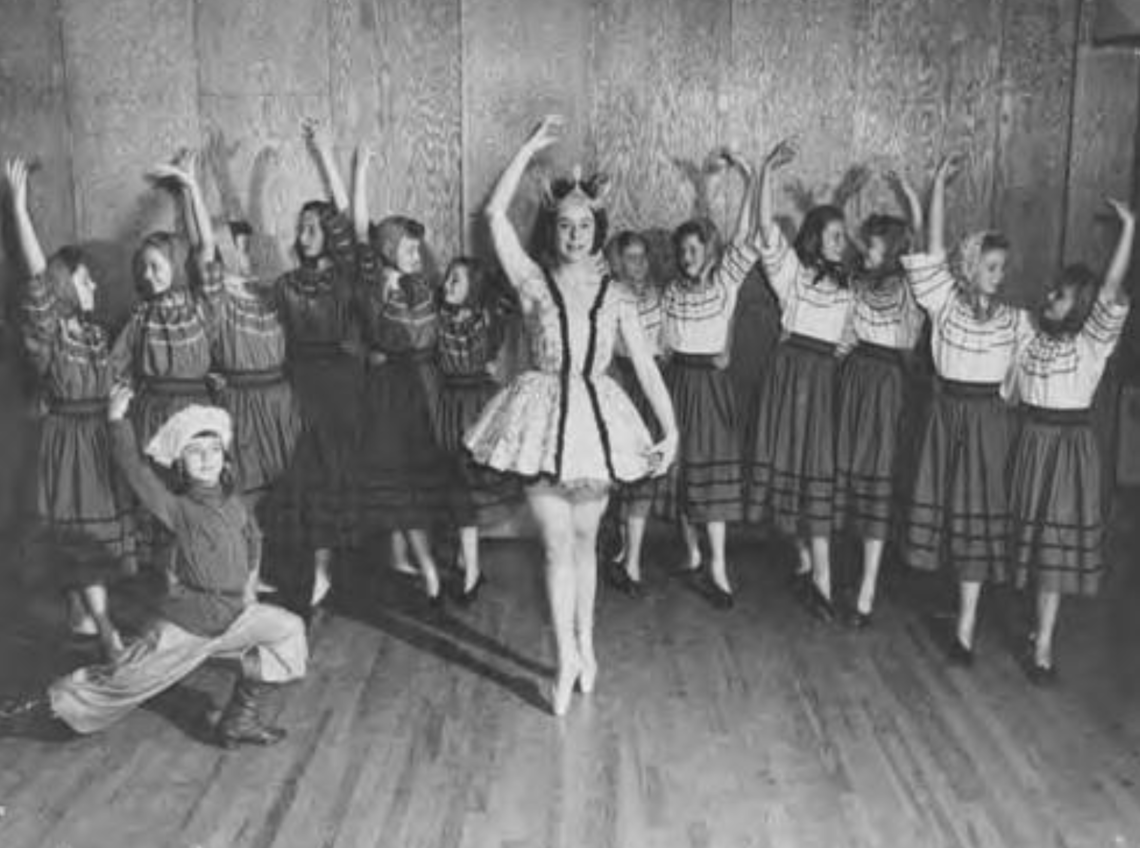 ALBERTA BALLET IS FOUNDED
With its roots planted in the early 1950s by the late Dr. Ruth Carse, the organization took its official name of Alberta Ballet in 1966 in Edmonton, Canada. In 1990, Alberta Ballet and Calgary City Ballet merged into the company it is today with its headquarters in Calgary.
UCALGARY BECOMES TRUSTEE OF THE BANFF SCHOOL OF FINE ARTS
The Banff School of Fine Arts (now known as The Banff Centre) began in 1933. Stewardship of the School was transferred to the University of Calgary when UCalgary became autonomous in 1966 and in 1978, the Alberta government legislation granted The Banff Centre full autonomy as a non-degree granting educational institution under the governance of an appointed board.
STUDENTS PROTEST LIBRARY HOURS
700 students stage a sit-in to demand longer library hours. As a result, library hours are extended on a limited basis. In 1967, library hours are extended permanently.
FACULTY OF FINE ARTS ESTABLISHED
General Faculty Council approves union of faculties of Art, Music and Drama. It's the first of its kind in Canada.
MACEWAN HALL OFFICIALLY OPENS
At the official ceremony, Lieutenant-Governor Grant MacEwan declines to speak, saying the dedication "has affected me more than anything I can remember. This is something that does not happen often in a man's lifetime."
FIRST CONCERT HELD ON CAMPUS
Folk singers Sylvia and Ian Tyson appear. A failed fire inspection sparks concerns the concert might be canceled, but it goes ahead after temporary fire equipment is installed.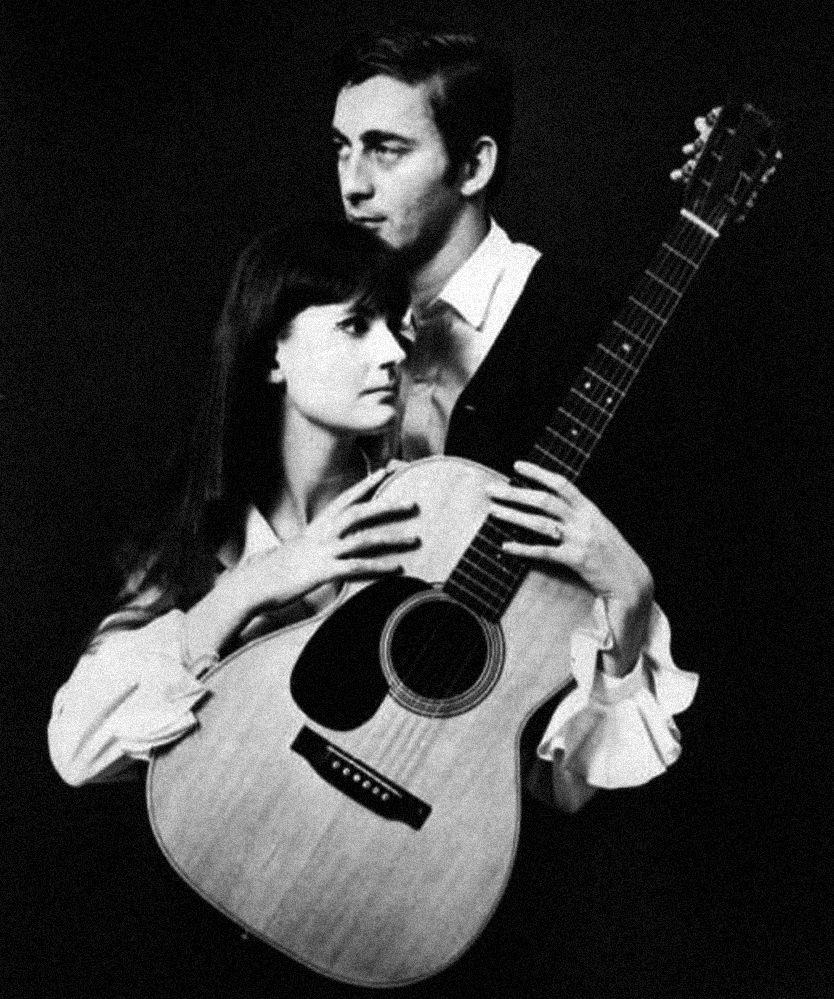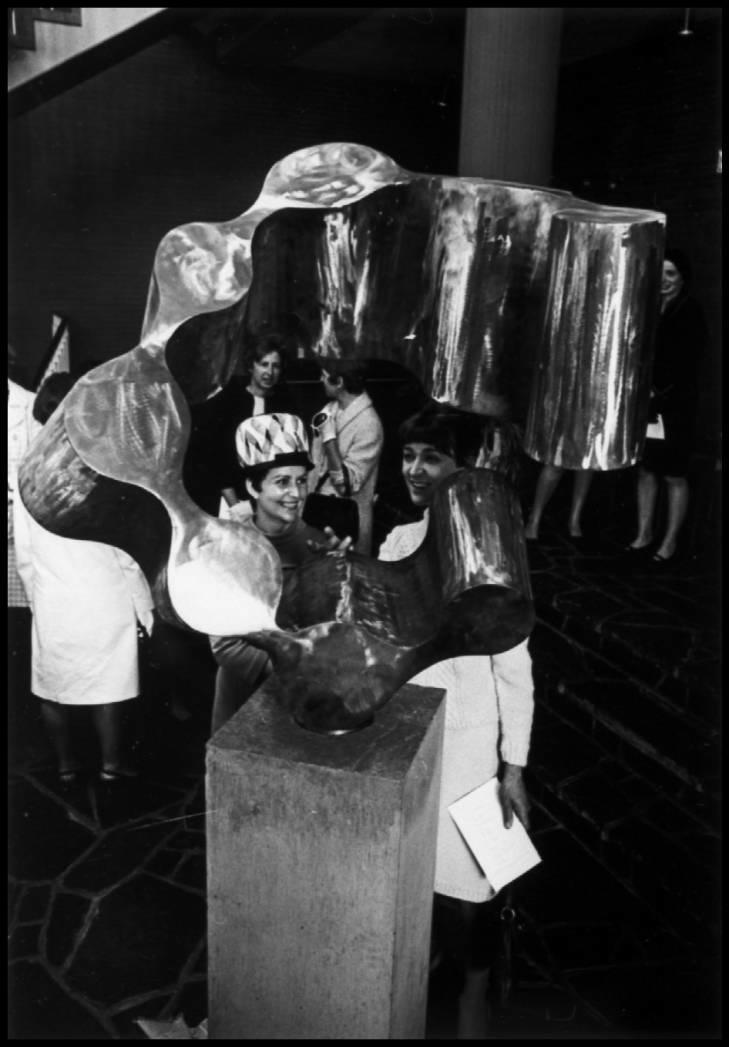 DIEFENBAKER SPEAKS ON CAMPUS
Sponsored by the Progressive conservative Student Federation and the Students' Union, the former prime minister gives an address on nationalism.
NATIONAL PARKS CONFERENCE
Jean Chrétien, minister of Indian Affairs and Northern Development (and future prime minister) addresses the conference, held on campus outlined what he intended to do for the promotion and improvement of the Canadian parks system.
CONIC TURN INSTALLED
Commissioned by the Engineering Wives Club as a Centennial gift, renowned Canadian sculptor Katie Ohe creates a sculpture for the Faculty of Engineering.
CAMPUS NEWSPAPER PUBLISHED
The first issue of the University of Calgary Gazette illustrates how UCalgary contributes to culture in Calgary. Examples include a Drama Department performance at Spy Hill Prison and downtown lunchtime "happenings" that begin in 1968, offering art, drama, lectures, discussions and concerts.
"THE BEST SHOW IN TOWN"
UCalgary drama department stages performances in the community, including downtown during lunch hour and at Spy Hill Prison. At the time, Calgary is lacking in a live-theatre scene.
W.O. MITCHELL NAMED AUTHOR-IN-RESIDENCE
Who Has Seen The Wind author spends the latter part of his career in Calgary, donating his fonds to UCalgary archives in 1976.
"THE ROCK" DUG UP
"The Rock" is unearthed during excavations of the Social Sciences building. After students apply several coats of paint during the dark of night, university administration decides to place the rock in front of MacEwan Hall and students use it as a message board.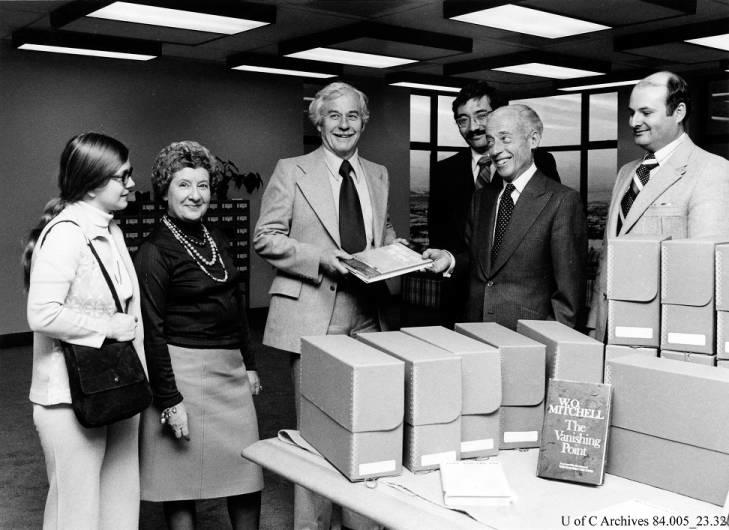 YIPPIE REVOLUTION COMES TO CALGARY
American activist Abbie Hoffman, appears on campus on a speaking tour to pay his legal bills. He passively attempts to start an Alberta chapter of his Youth International Party (hence the term YIPPIE) and taunts UCalgary students in his speech, saying they would be more inclined to strike "if this wasn't such a pablum university."
FIRST ABORIGINAL STUDENT GRADUATES
Vivian Ayoungman, the university's first indigenous student, graduates with a Bachelor of Education degree. She goes on to earn a Master's degree in education, a Master's in Adult Education, a Ph.D. in Elementary Curriculum Instruction from Arizona State University. Dr. Ayoungman becomes Director of Education for the Treaty 7 Tribal Council and is the recipient of the Distinguished Alumni award in 1992.
SPECIAL COLLECTIONS BEGINS ACQUIRING CANADIAN AUTHORS' PAPERS
Chief Librarian Kenneth Glazier establishes this program. He eventually acquires papers of Alice Munro, Hugh MacLennan, James Gray and Mordecai Richler, among others.

MORDECAI RICHLER WAS HERE
Author addresses campus and donates his personal papers to Special Collections.
PROFESSOR BORIS ROUBAKINE DIES
A colleague describes him as "without a doubt Canada's best-known and admired exponent of piano teaching".

LAW SCHOOL OPENS
Members of the university and the Calgary legal community, in conjunction with the City of Calgary, succeed in bringing a law school into existence.
PRAIRIE CHICKEN SCULPTURE UNVEILED
Artist George Norris wins 1973 competition to design an artwork for the Swann Mall. Installed in September 1975, the 4.5-ton, 18-foot aluminum sculpture becomes known as "The Prairie Chicken."
PORCELAIN MURAL ACQUIRED
Originally located in the Hudson's Bay Oil and Gas building, Ed Drahanchuk's 1973 piece is presented to the university and installed in the Sciences Complex when the company moves.
EFFECTIVE WRITING PROGRAM
University College develops and implements program to improve English language comprehension and use. 55% of first-year students tested required assistance in improving their writing skills.
FIRST HOMECOMING WEEKEND
Celebrations mark the Alumni Association's 10-year anniversary.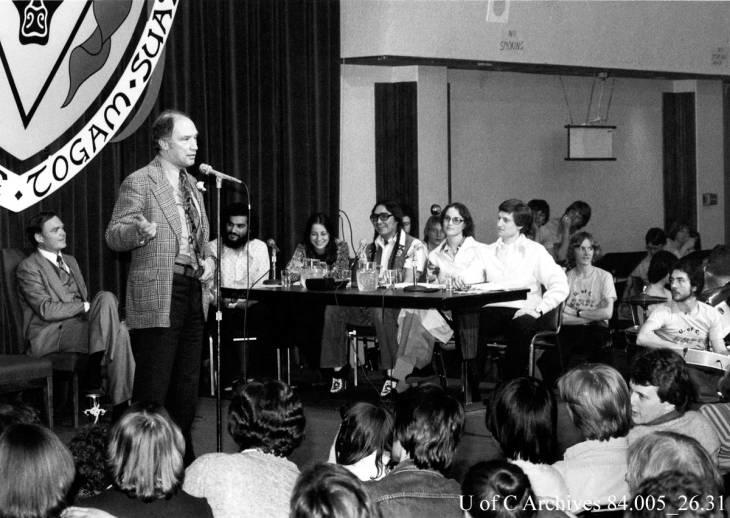 PRIME MINISTER PIERRE TRUDEAU VISITS CAMPUS
On a tour across the western provinces, Trudeau fielded questions from a four-student panel mostly on the topic of bilingualism and Quebec separatism. The official purpose of the tour was to increase people's familiarity with government members and policies.
CONFERENCE ON THE CANADIAN NOVEL
Chief Librarian Kenneth Glazier, referring to national media attention remarks, "while heretofore such conferences would have been held in Toronto or the Eastern area, it was now Calgary which could host such a gathering."
NICKLE ARTS MUSEUM ESTABLISHED
With matching provincial funds, Samuel Clarence Nickle donates $1 million and a substantial numismatics collection to establish a museum devoted to numismatics, archaeology, art and artifacts. At the time, it is the largest donation in the university's history.
CANADIAN MUSIC CENTRE COMES TO CALGARY
The branch, called the Canadian Music Centre – Prairie Region, occupies offices in the MacKimmie Library.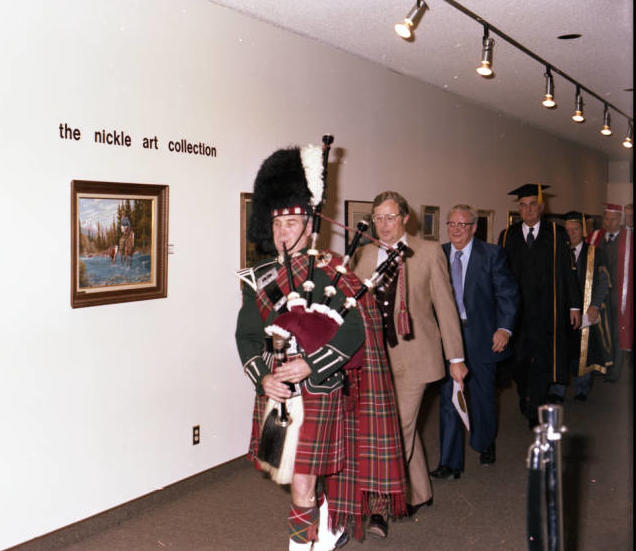 CANADIAN-ARAB RELATIONS CONFERENCE
Held from June 22 to June 24, it's the first conference on this subject in North America.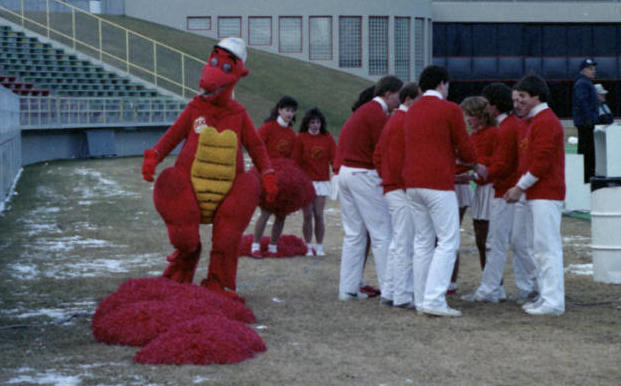 A DINO IS BORN
Named Dexter Dinosaur by students Jeff Jewitt and Greg Kirkham, the university mascot is unveiled.
CAMPUS TELEVISION STATION ARRIVES
NUTV begins producing content in Calgary's first TV studio.
BROTHERS OF THE WIND ACQUIRED
1925 bronze sculptural relief by Robert Tait McKenzie, to be displayed in the new Olympic Oval, depicts speed skaters.
UNREST OVER FUNDING
5000 students and staff block traffic on Crowchild Trail and 32 Avenue NW and occupy the administration office in protest of provincial funding cuts. Advanced Education Minister Dave Russell, responsible for the cuts, says "I would participate too. [Protests are] part of student life."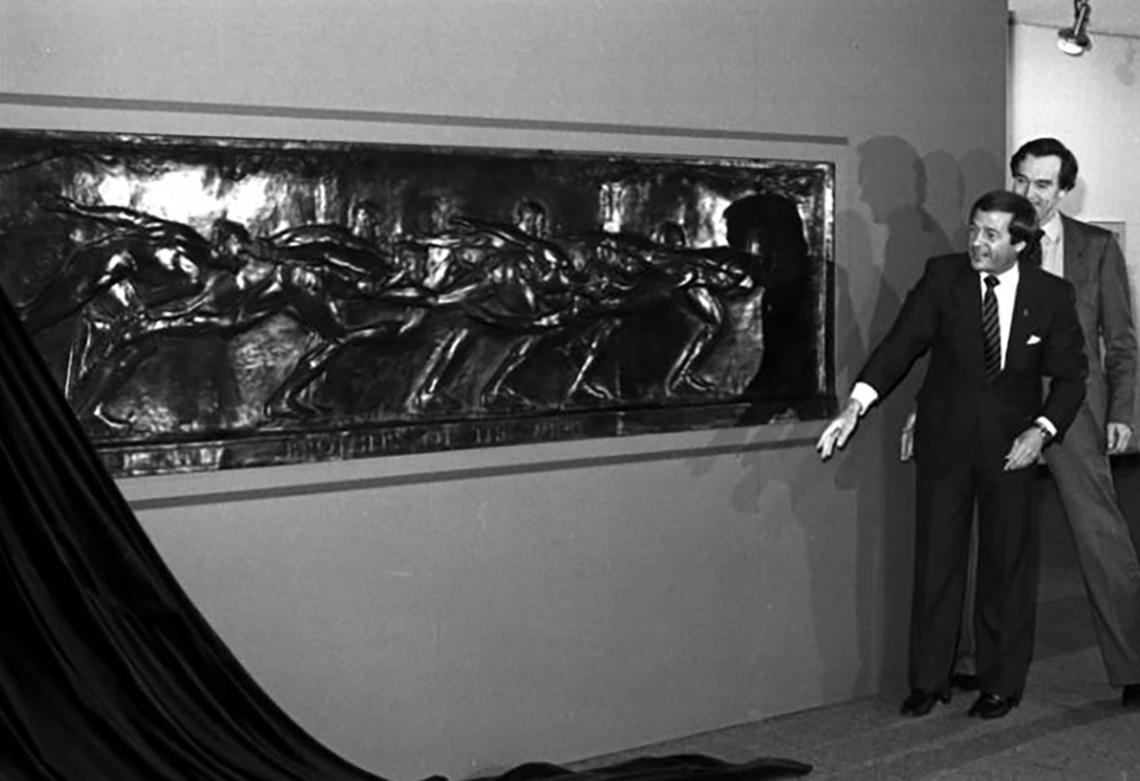 SCHOOL OF MUSIC BAND RELEASES NIGHT SUITE
Directed by professor Warren Rowley, the album is the first recording by students of the department of music. It is played across Canada and received favourably by critics.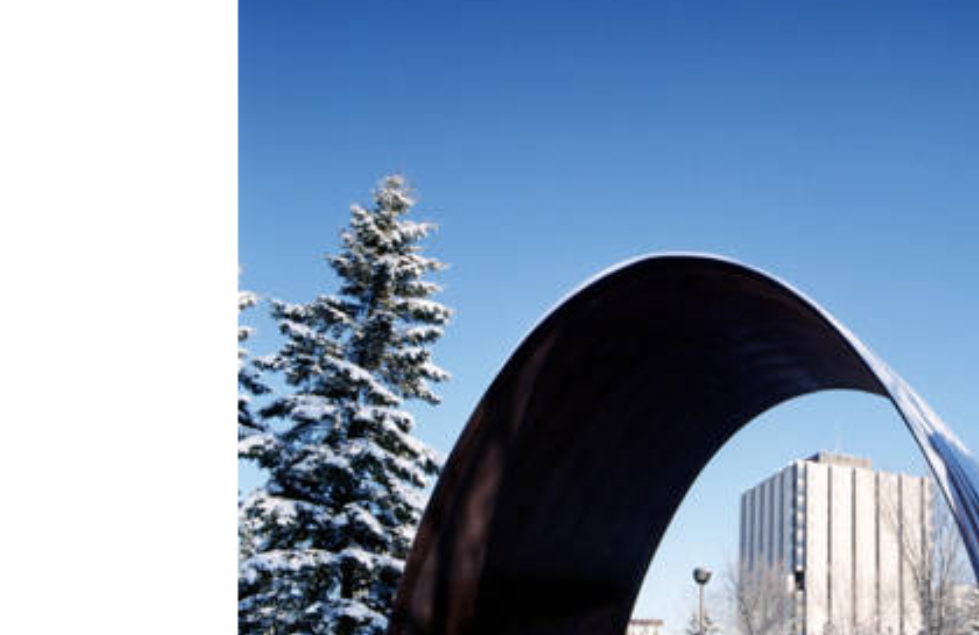 GEORGE FOX: COUNTRY ON CAMPUS
CBC special starring Albertan rancher-turned-singer/songwriter films in August. Fox brings stars Garth Brooks and Trisha Yearwood with him.
OLYMPIC ARCH AQUIRED
Colette Whiten and Paul Kipps' 1988 sculpture "Olympic Arch," originally located at Calgary Municipal Building, is installed in front of Physical Education complex.
STEPHEN HARPER, ECONOMIST
Future prime minister earns his Master's degree in Economics.
APRIL SCHOOLS
To show appreciation for the larger community, UCalgary donates a $1,000 scholarship to every baby born in Calgary on April 1, 1991.
STATUS OF WOMEN COMMITTEE APPOINTED
Committee makes 123 recommendations for change by the year 2000, looking for a "transformation from a society whose policies and practices are generated from male experience and values and attributes to one that is truly gender-balanced."
WOMEN IN THE NINETIES
Report authored by Advisor on Women's Issues Susan Stone-Blackburn.
FUTURE CALGARY MAYOR GRADUATES
Naheed Nenshi earns his Bachelor of Commerce degree, goes on to attend Harvard. Nenshi also serves as Students' Union president.
DISNEY ON CAMPUS
Scenes from the movie "Cool Runnings," loosely based on the Jamaican bobsled team that competed in the 1988 Winter Games, are shot at the Olympic Oval and the Physical Education link.
NEW CHILD CARE CENTRE OPENS
Imperial Oil contributes $500,000 to project. Centre includes space for research into early childhood education.
ROZSA CENTRE OPENS
Built with support from Drs. Theodore and Lola Rozsa, features venues for music, dance and drama performances. Neils Jordan acoustically tuned the hall, which is proclaimed by some to be one of the finest chamber music halls in Canada, if not North America.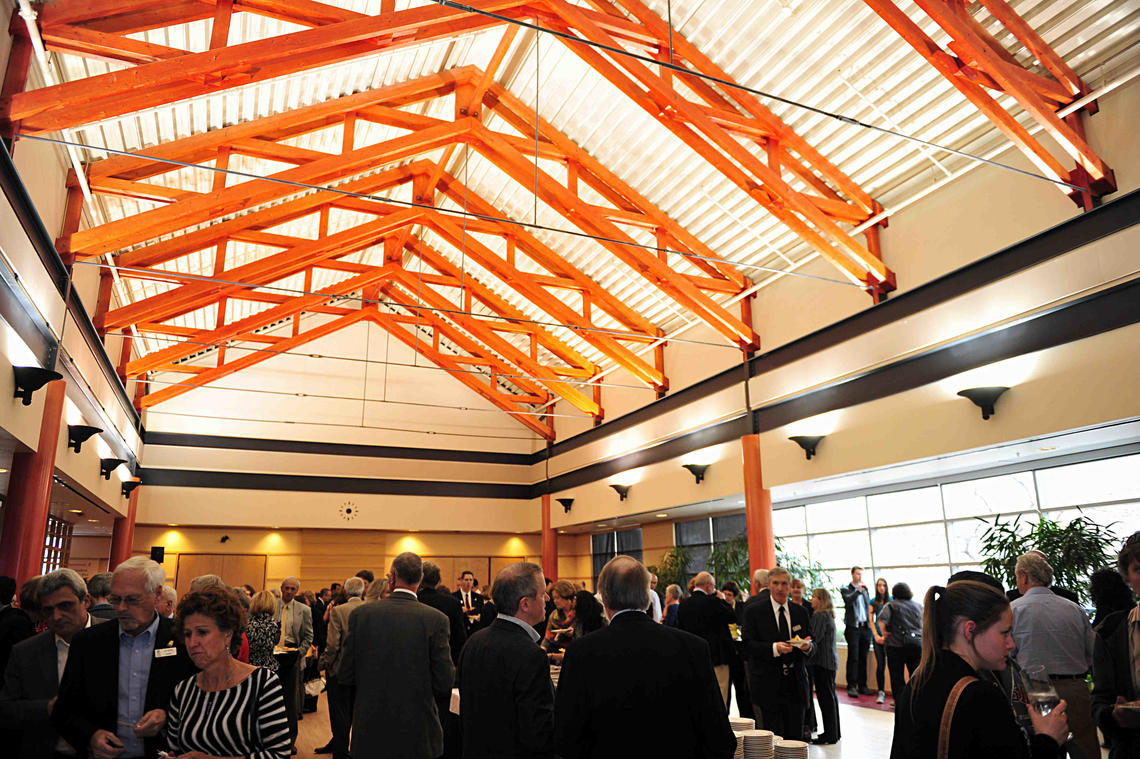 1988 - Business Community Seeks More Computer Grads
John Roth, Northern Telecom CEO, met with UCalgary leaders to talk about his company's expansion plans in Alberta and its need for university computer graduates.
Roth said each year Nortel recruits an astounding one-quarter of Canada's university graduates in computer science and electrical and computer engineering. He added he is very concerned about the decreasing number of computer graduates in Canada.
In a CBC-radio interview on May 7, Roth said compared to G7 countries, Canada lags behind in its ability to train and develop computer professionals. "In fact, (Canada) lags many of the countries that aren't in the G7."
UCalgary President Terry White told Roth that Calgary's university is seeking provincial funding to double the number of graduates from the departments of computer science and electrical and computer engineering. Currently about 250 students graduate from these programs. But the demand for computer professionals in Calgary is estimated to be between two to three times greater.
In a survey of Calgary businesses about a year and a half ago, conducted by the Calgary Research and Development Authority (CRDA), the chronic shortage of qualified information technology professionals was cited as local industry's most serious roadblock. The survey also found that the rapidly shrinking supply of computer professionals will soon force employers to rely more on new graduates and that these graduates need to be able to communicate and think critically in addition to having cutting-edge technical skills.
At the UCalgary meeting, Roth said Nortel campaigned hard for the Ontario government to expand its post-secondary computer programs. And it worked.
In its 1998 provincial budget, the Ontario government invested $150 million over three years to double enrolment in its university computer science and engineering programs. This program, called Access to Opportunities, will provide up to 17,000 new spaces for students each year in Ontario.
The Nortel-UCalgary meeting also gave several prominent UCalgary researchers a chance to show how Nortel's financial support is being put to work on campus.
Nortel supports several initiatives at UCalgary, including three UCalgary research chairs -- the Industrial Chair in Software Engineering/Manufacturing, Nortel Chair in Intelligent Manufacturing and Chair in Management of Technological Change (Project Management).
Originally posted in Gazette, May 19, 1998
"Nortel is very dependent on universities to provide us with our people... Our intellectual capital is our biggest asset."
- John Roth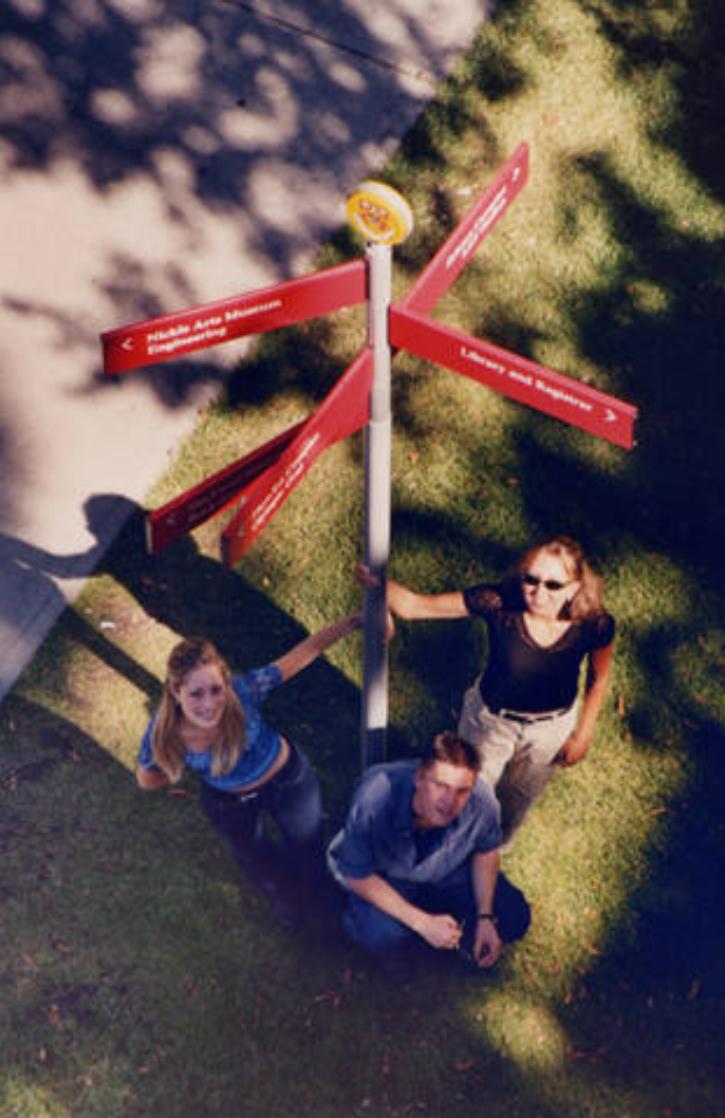 MIKHAIL GORBACHEV AWARDED HONORARY DEGREE
Former Soviet leader co-hosts conference on campus, delivers James S. Palmer lecture on the future of federalism.
HISTORY GOES DIGITAL
Alberta Heritage Digitization Project" is launched, coordinated by UCalgary. It creates a digital database of documents, photographs and artifacts outlining Alberta's history.
DESERT DISCOVERIES
Archaeology professor William Glanzman and an international team unearth a 3,000-year-old temple in Yemen that is linked with the Queen of Sheba.
MILITARY MUSEUMS LIBRARY PARTNERSHIP
The Military Museums Library and Archives is managed by UCalgary through a partnership established in 2000. The library has over 20,000 books and periodicals on Canadian and general military subjects.
GIBSON SCIENCE FICTION COLLECTION
The Gibson Science Fiction collection, one of the largest resources for science fiction research, consisting of over 30,000 books and magazines is donated to Special Collections.
MACEWAN HALL EXPANSION
Addition opens of 50,000-square-foot live music and conference venue to the Student Centre.
NUTV GOES ON-AIR
New campus-wide closed-circuit television system is the first of its kind in Canada.
PRESTON MANNING BECOMES A "DISTINGUISHED VISITOR"
Preston Manning donates the records of the Reform Party to the University Archives and becomes a "Distinguished Visitor" to the University of Calgary.
THE CALGARY CENTRE FOR INNOVATIVE TECHNOLOGY (CCIT) OFFICIALLY OPENS
CCIT fosters multidisciplinary initiatives through teams of researchers, students and professors collaborating with industry, government agencies and other universities to find solutions to problems facing society and industry in several key areas.
BUDGET WOES
Board announces $30 million in cutbacks over two years. Law, medicine and MBA students face doubling of tuition; all other programs hiked 6.3% across the board. 16 staff laid off.
FIRST ISSUE OF ON CAMPUS PUBLISHED
On Campus is the predecessor of UToday, the campus newsletter.
PUBLIC HEALTH ENDOWMENT MADE
Allan Markin, Chairman of Canadian Natural Resources, donates $18 million to establish a Public Health Institute. It is the largest individual donation to date.
CLASSICAL RECORDING RECOGNIZED
A CD co-directed by Dr. Victor Coelho, director of the Centre for Research in the Fine Arts, wins a 2004 Prelude Classical Award, one of Europe's top awards for classical recordings. La Notte d'Amore: Music for the Wedding of Cosimo Il Medici and Maria Magdalena of Austria was based on research by Coelho, who reconstructed the music and poetry from the three-week long event held in 1608.
SCHULICH SCHOOL OF ENGINEERING ESTABLISHED
Seymour Schulich, director of Newmount Mining Corporation, donates $25 million to the engineering faculty. It is matched by the province, making it the largest donation in the university's history. The faculty is renamed and 100 new engineering scholarships are created.
HEALTH RECREATION CENTRE THE LARGEST FACILITY IN CALGARY
University of Calgary Health Recreation Centre is now the largest multi-sport recreation facility in Calgary, offering health, fitness, recreation, children and youth and outdoor programs to the general public as well as the university community.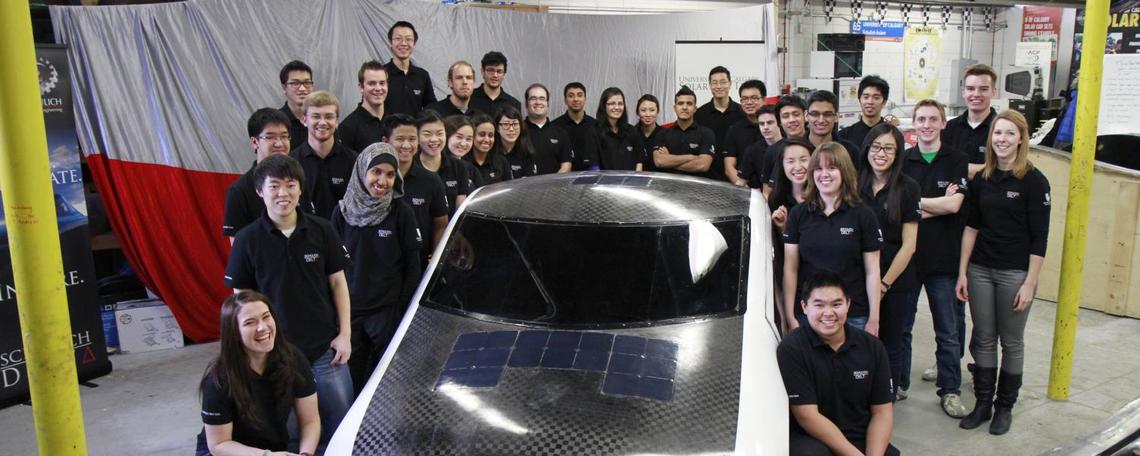 2008 - Schulich's Solar Car is up to speed
Arm curls, hot yoga, endurance training and nutritional counseling. It may sound like boot camp for running a marathon but it's actually part of the training routine for three University of Calgary students who will drive the Schulich 1 solar car from Dallas, Texas to Calgary this summer in the 2008 North American Solar Challenge.
Driving a solar car isn't nearly as easy or comfortable as a normal vehicle, so there's a lot we have to do to get ready to spend long periods of time driving at high speed," said Jeff Wickenheiser, a first-year student in the Schulich School of Engineering and one of the team's drivers.
After months of driving Schulich 1 in university parking lots, the drivers had their first chance to put the car through its paces at Race City Motorsports Park on May 6. It was Wickenheiser's first chance to see how the vehicle performs at cruising speed.
The team tapped the experience of previous UCalgary solar car drivers to come up with a training regime for the 4,000 kilometre race that starts in Dallas on July 13 and ends at the UCalgary finish line on July 22.
The drivers are focusing on increasing their upper body strength and stamina. The car does not have power steering and each driver will be expected to drive five-hour shifts during the race's 10-hour days.
They are also taking driver training classes at Race City and special yoga classes in hot rooms to ready themselves for the intense heat of driving across the southern U.S. under a Plexiglass canopy with no air conditioning.
"The conditions while driving can be quite intense, so the drivers have to be in good shape and stay well hydrated," said Darshni Pillay, the team's operations manager.
The testing day at Race City will be followed by regular practice runs on secondary highways outside of Calgary leading up to the team's departure for Dallas on July 1.
Originally posted in UToday, May 9, 2008
ELIZABETH CANNON NAMED PRESIDENT
A university alumna, she becomes the university's first female president.
DOWNTOWN CAMPUS OPENS
A new campus in the city's downtown core is opened, a community hub providing programming, meeting facilities and function space.
DUKE AND DUCHESS OF CAMBRIDGE VISIT
UCalgary is the only university Will and Kate visit on their first official tour. They visit the Ward of the 21st Century Research and Innovation Centre. They help "save" iStan, the centre's patient simulator, from a heart attack.
TAYLOR FAMILY DIGITAL LIBRARY OPENS
One of the most digitally progressive academic libraries in North America, combining a library, art gallery, archives, rare collections, a student success centre and the latest digital tools for learning and research.
SPO'PI SOLAR HOUSE PROJECT LAUNCHED
Cenovus TRTL (Technological Residence Traditional Living) is a student-built, net-zero house that features the latest in solar power technology. Now permanently installed on campus as a solar energy and sustainability research facility.

MATH MINDS PROGRAM LAUNCHED
An innovative approach to math education, making it more accessible, interesting and enjoyable to students from kindergarten to Grade 6 and helping to establish Calgary as a centre of excellence in math education.
CANADIAN CENTRE FOR ADVANCED LEADERSHIP IN BUSINESS ESTABLISHED
The university launches the Canadian Centre for Advanced Leadership in Business, funded by four founding donors passionate about values-driven business.
ROZSA ARTS MANAGEMENT PROGRAM (RAMP) LAUNCHED
A partnership between the Rozsa Foundation and the Haskayne School of Business, RAMP is a customized Executive Education program addressing the specific needs of arts administrators.
CALGARY NAMED THE CULTURAL CAPITAL OF CANADA
The titled bestowed by the federal government came with $1.6 million grant as part of a national program to recognize special activities in Canadian cities that harness the benefits of arts and culture in the community. The Calgary Stampede also celebrated its 100 Anniversary in 2012.
PROGRAM FOR PUBLIC ARCHAEOLOGY LAUNCHED
Participants in the program take part in the excavation of the university's Archaeology Field School at the Cluny Fortified Village on the Siksika Nation.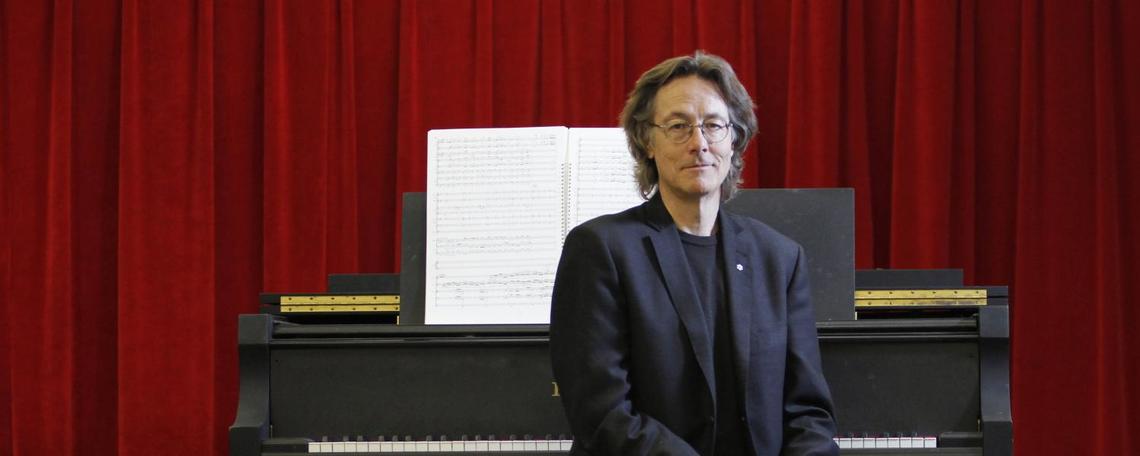 2014 - Music professor, Allan Bell, wins Juno Award
Star composer takes home top honours for Classical Composition of the Year
As the Canadian music industry hailed its most successful artists this weekend in Winnipeg at the 2014 Juno Awards, the University of Calgary proudly celebrated one of its own.
On Saturday, longtime music professor Allan Bell, who is currently serving as acting director of the newly formed School of Creative and Performing Arts, was awarded Classical Composition of the Year for his work Field Notes.
Richard Sigurdson, dean of the Faculty of Arts, congratulated Bell on the victory.
"This well deserved award for Allan really showcases the remarkable talent at the School of Creative and Performing Arts and the performing arts excellence at the University of Calgary," said Sigurdson.
"I hope this shines a big light on the School of Creative and Performing Arts," Bell added. "There is an awful lot of talent amongst my colleagues and those students, and the more light that shines on it the better. People are going to find out what an incredible force we are for doing remarkable artistic work." 
Bell's Juno win is only the latest in a long line of accomplishments that have marked his distinguished career.
He is a Member of the Order of Canada and was elected to the Royal Society of Canada in 2007.
He helped to create the University of Calgary's PhD program in music and he has won many teaching excellence awards throughout his career. His music has been performed by orchestras across North America and his acclaimed composition, An Elemental Lyric, was performed at Carnegie Hall and the Kennedy Centre by the Calgary Philharmonic Orchestra.
First published in UToday, by Heath McCoy, March 31, 2014