Advanced Ionics for Sustainable Energy Laboratory (AISEL)
The Advanced Ionics for Sustainable Energy Lab (AISEL) works in the area of advanced  all-solid-state batteries, solid oxide fuel cells (SOFCs), and gas sensors. Some of the current research projects include:
CO2 and humidity stable solid-state ceramic proton conductors, fast oxide ion electrolytes and mixed ionic-electronic conductors (MIECs) for advanced solid oxide fuel cells
Ceramic Li-ion conducting membranes based on the Li-stuffed garnet to replace the state-of-the-art electrolyte system. Ceramic membranes can provide benefits such as battery safety and high voltage for next generation high energy density all-solid-state batteries 
Electrocatalysts for improving the electrode kinetics of Lithium-sulfur batteries, CO2 reduction and ammonia synthesis.
Novel ceramic materials for sensing various gases such as CO2, SOx, NOx, H2 and humidity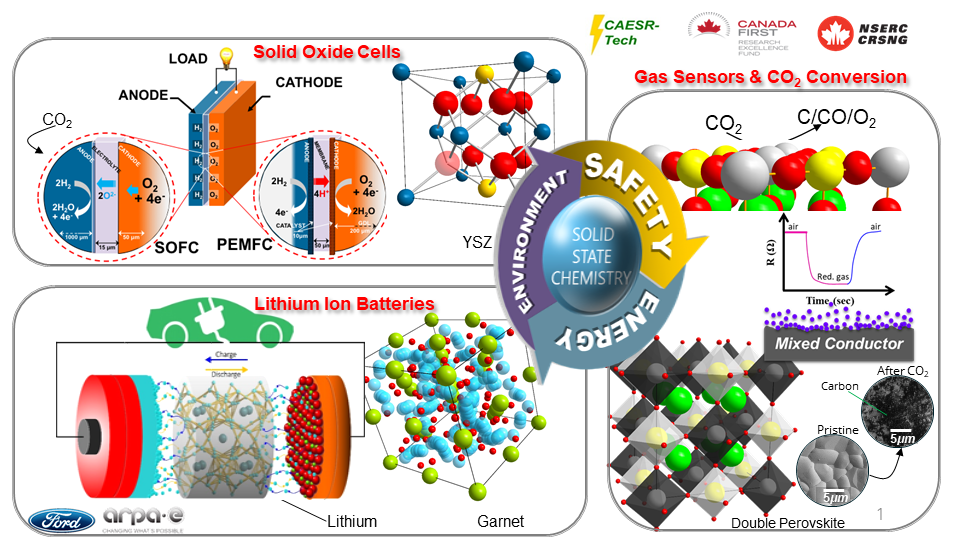 Credit: Suresh Mulmi
Thangadurai Group ensures that all individuals are given equal opportunity for open positions. 
Accepting applications for Postdoctoral studies, starting May / September 2022. For more information, please click here.
Last updated June 8, 2022