Advanced Ionics for Sustainable Energy Laboratory (AISEL)
AISEL group symposium In collaboration with Energy Transition Centre
The aim of this symposium is to showcase to the public and private sector the AISEL research group's efforts and expertise in advanced battery and fuel cell technologies. New research and findings from the group will be presented, and scientific concepts discussed in the following research areas:
Materials for Solid Oxide Fuel Cells
Modern Subzero Electrolytes for Batteries
Charge Storage Mechanism in Batteries
Solid State Electrolytes for Next Generation Batteries
New Design for Redox Flow Batteries
Density Functional Theory for Energy Storage
Lithium-Sulfur Batteries
Date and Venue
November 9, 2022 ,09:00 to 16:30 1500 (15th Floor), East Tower, Ampersand Building, 112-4 Ave SW, Calgary.
Congratulations to our Graduate Students who have been awarded with Scholarships
The Advanced Ionics for Sustainable Energy Lab (AISEL) works in the area of advanced  all-solid-state batteries, solid oxide fuel cells (SOFCs), and gas sensors. Some of the current research projects include:
CO2 and humidity stable solid-state ceramic proton conductors, fast oxide ion electrolytes and mixed ionic-electronic conductors (MIECs) for advanced solid oxide fuel cells
Ceramic Li-ion conducting membranes based on the Li-stuffed garnet to replace the state-of-the-art electrolyte system. Ceramic membranes can provide benefits such as battery safety and high voltage for next generation high energy density all-solid-state batteries 
Electrocatalysts for improving the electrode kinetics of Lithium-sulfur batteries, CO2 reduction and ammonia synthesis.
Novel ceramic materials for sensing various gases such as CO2, SOx, NOx, H2 and humidity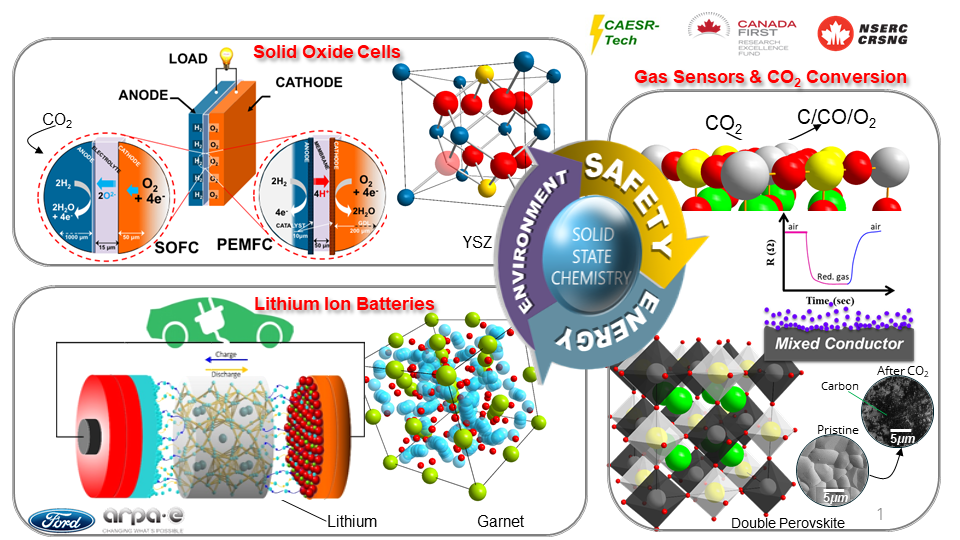 Credit: Suresh Mulmi
Thangadurai Group ensures that all individuals are given equal opportunities for open positions. 
Accepting applications for Postdoctoral studies, starting May / September 2023. For more information, please click here.
Last updated November 16, 2022