UCalgary is a hub connecting passionate visionaries. We're reaching out across silos and disciplines with a shared purpose – to ignite life-changing global impact. By embracing curiosity as the spark, catalyzing the quest for knowledge, and partnering with government, community leaders, non-profits and the private sector, UCalgary drives the pace of innovation.  
To enhance the entrupreaurial spirit, UCalgary invested in creating its own Innovation Ecosystem Directory. A resource for entrepreneurial thinkers at UCalgary to search the extensive structure of innovation resources. From early stage ideas to well established proof of concept, UCalgary Innovation Ecosystem can help advance your innovative ideas and solutions.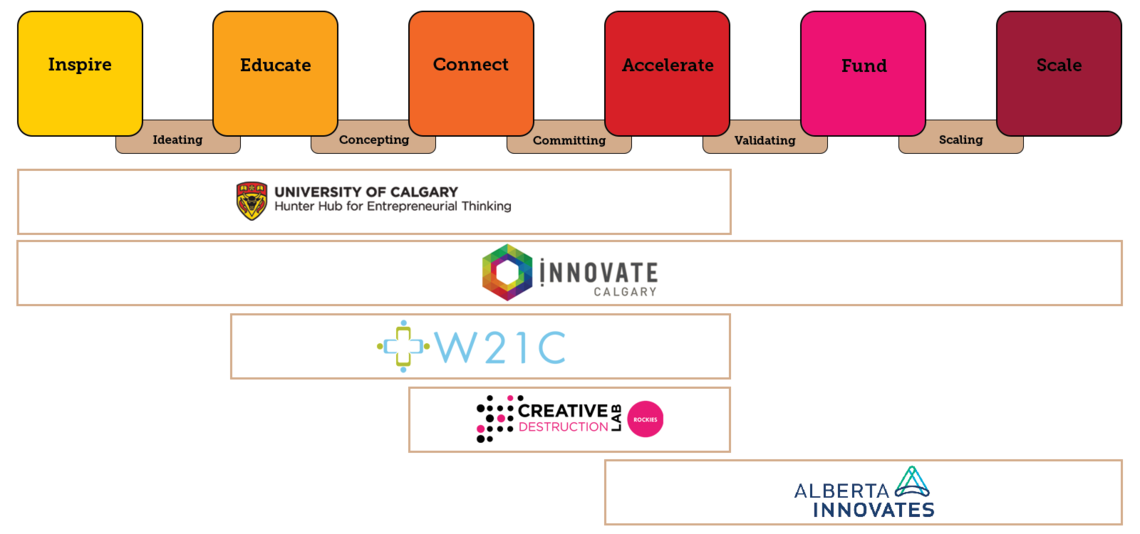 Calgary's new quantum innovation hub
The University of Calgary has formed a strategic partnership with the Government of Alberta, and Mphasis, an information technology solutions provider specializing in cloud and cognitive services to establish Quantum City.
Joan Snyder was one of the University of Calgary's most impactful and ardent supporters during her lifetime — and, in true Snyder fashion, she continues to drive positive change even after her passing earlier this year. In a final act of generosity, she left an exceptional legacy gift of more than $100 million to community organizations — including $67.5 million that will boost research, student learning and athletics at UCalgary... continue reading.
$1.3 billion and counting…
In just five years, Creative Destruction Lab – Rockies, housed at the Haskayne School of Business, has helped participating ventures generate well over $1 billion in equity value. This program is making a significant impact to the province's economy by helping innovators — here and abroad — commercialize massively scalable science and technology-based innovations.
In the fourth quarter of 2021, the site's participants eclipsed the $1 billion threshold of equity value creation — a figure that currently sits at $1.3 billion.
Hunter Student Commons (HSC) is the culmination of three significant building projects across UCalgary made possible by $270.6 million in support from the Government of Alberta.
It includes $135 million to create the brand-new Hunter Student Commons, helping the University of Calgary improve accessibility and the student experience, as well as the MacKimmie Tower redevelopment and upgrades to the Professional Faculties Building.
Hunter Student Commons is named in honour of the Hunter family, whose ongoing philanthropic support, including $40 million to establish the Hunter Hub for Entrepreneurial Thinking, has helped UCalgary become Canada's entrepreneurial university.
Learn more about UCeed's first year of investment impact and hear from some key stakeholders on how UCeed is shaping the future of our economy... read more