Proactive Ergonomic Program
Regular movement throughout the day combined with a safe and comfortable workstation are essential in maintaining good health and preventing potential problems related to job demands.
Working From Home - Safety Guidelines
The following are general safety guidelines that should be followed whenever university staff are working from home.
Ergonomics

Electrical Safety

Ensure extension cords are in good condition and do not cause a tripping hazard.

Do not overload outlets.

Work Area

Remove tripping hazards from the work area.

Keep portable heaters away from flammable or combustible items.

Emergency Response

Test the smoke and/or carbon monoxide detector to ensure they are working.

Confirm there is a clear path to an exit.

Ensure emergency contact information in PeopleSoft is up to date

Reporting

Report all work related safety incidents to your supervisor.

Ensure all incidents in OARS (Online Accident Reporting System).
Improve Your Ergonomic Approach
________________________________________________________________________________
Step 1: Become Informed - Proper Workstation Adjustments

Watch the Video
Choose the appropriate videos below to help decrease risk of injury and improve overall comfort while  at work:
Take the Class
Specialized Department Ergonomic Sessions are available. If your department/unit would like a specialized ergonomic presentation and/or intervention, have your manager contact Staff Wellness. Postponed until further notice.
In-person ergonomics classes are coming soon.
Use the Resources
Step 2: Start the Movement - Get Moving
Regular movement can minimize muscle tension, prevent damage, ease pain, and boost your energy. Incorporate movements into your workday to increase blood flow to the musculoskeletal system and your brain. Movement breaks help with focusing, decrease the risk of repetitive strain injuries and improve overall health. Your participation will benefit your health and will also encourage your co-workers to participate in proactive health.  
 
Use the Resources:  
If you have a health condition, please contact your Health Care Provider prior to engaging in exercise. If your Health Care Provider has provided exercises for your condition, please incorporate these into your day if appropriate for your work environment.  
 
Take the Class:
In-person classes on workplace movement breaks are coming soon.
Step 3: Assess Symptoms Related to Your Workstation

Stage 1 symptoms: If you have discomfort for days/weeks/months, which improves with changes in activity
Complete steps 1 and 2 above
Try your new workstation adjustments for two weeks.
Refer to the Ergonomic Program Assistance Guide if:

your symptoms persist after two weeks;
your symptoms become worse within the two week period; or
no adjustments were required at your workstation
 
Stage 2 symptoms: If you have discomfort for months/years, your symptoms occur faster and last longer, and you are having difficulty with daily activities, refer to the Ergonomic Program Assistance Guide.
 
Stage 3 symptoms: If you have constant discomfort, and your sleep and daily activities are affected, refer to the Ergonomic Program Assistance Guide.
 
Resources: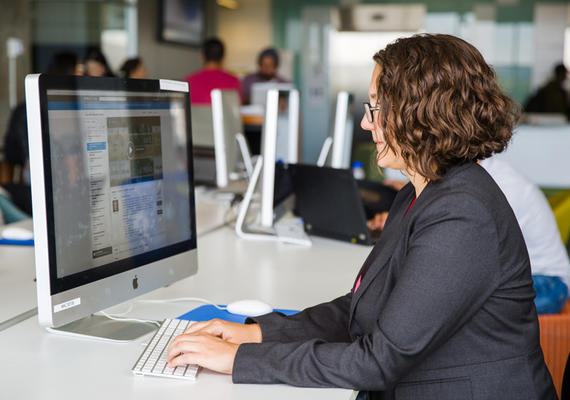 Book Your Ergonomic Assessment with EWI Works
EWI Works - COVID 19 Assessment Response
1. Complete Step 3 above prior to booking an ergonomic assessment to determine your assessment needs.
2. Complete the EWI Ergonomic Assessment Approval Form and email it to: dmacdonald@ewiworks.com Phone: 403-802-0886
3. EWI Works will contact you with pricing information and schedule availability.
Departments are responsible for fees related to ergonomic assessments and equipment purchases. Multiple assessments booked consecutively receive a discounted rate. Most assessments will occur on Tuesdays however other scheduling options are available. Please contact Donald MacDonald at EWI Works for more information: dmacdonald@ewiworks.com phone: 403-802-0886.