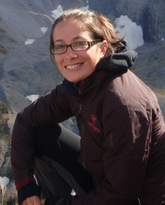 Valentina Corradi
Research Associate
Biocomputing
PhD - Pharmaceutical Sciences
University of Siena
MSc - Pharmaceutical Chemistry and Technology
University of Parma
Research and teaching
Research areas
Lipid-protein interactions
ABC transporters
Membrane proteins structure - function relationships
Molecular simulations
Research Interests
Proteins and lipids are the main components of biological membranes. Membrane proteins are responsible for many vital cellular processes, including the movement of ions, drugs and xenobiotics across membranes, and receiving and translating chemical signals across cells. Mutations in membrane proteins often impair their mechanism and function, with inevitable impact on human health. Lipids not only provide the matrix in which proteins are embedded, but also play active roles in protein function regulation.
I am interested in understanding at the molecular level how proteins and lipids work in synergy to carry out different functions, and I focus in particular on structure, function and dynamics relationships of membrane proteins and their interplay with the lipids. To address these questions I use computer simulations and other computational biology methods, combined with my pharmaceutical sciences background, with the goal of helping the discovery of more effective therapeutical approaches.
Publications
See full list of my publications at this link.