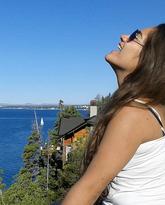 Estefania Barreto-Ojeda
PhD candidate Biophysical Chemistry
Biocomputing Group
BSc - Physics
Universidad Nacional de Colombia, 2014
MSc - Physics (Complex Systems)
Instituto Balseiro, 2016
Research and teaching
Research areas
ABC transporters
Lipid-protein interactions
Machine Learning
Membrane Curvature
Research Interests
My research is focused on computational biophysics. I perform molecular dynamics (MD) simulations using the Martini force field, a coarse-grained approach. My first project as a Ph.D. student addressed lipid-protein interactions in P-glycoprotein (Pgp), the best characterized ABC transporter. Pgp translocates a wide range of substrates, including drugs and lipid-like molecules. I was investigating lipid diffusion (PC/PE) towards the cavity of Pgp: How do the lipids access the cavity of Pgp? Where are located the lipid-binding sites? Is it the same mechanism for lipid diffusion in Pgp regardless of the lipid environment? We addressed these questions very nicely here.
Currently starting a second project to study membrane curvature induced by prokaryotic and eukaryotic ABC transporters in the open and closed state.
I am a data visualization fan and machine learning enthusiast. All related to parallel programming and GPUs sounds cool and usually keeps my attention. I am not an android, still a human.
Teaching Experience
Machine Learning for Biologists (BIOL 607)
DNA, Inheritance and Evolution (BIOL 243)
Extracurricular Activities
VP Finance BGSA 2019-2020
Minerva Operation Volunteer 2017-2018
Publications
Barreto-Ojeda, E., V. Corradi, R.-X. Gu, and D.P. Tieleman. 2018. Coarse-grained molecular dynamics simulations reveal lipid access pathways in P-glycoprotein. J. Gen. Physiol. jgp.201711907. doi:10.1085/jgp.201711907.
Awards
2018, Student Research Achievement Award, Biophysical Society
2018, MITACS Globalink Research Award
2014- 2015, Instituto Balseiro Scholarship