When hunting mammmals, having a basic understanding and visual picture of their anatomy can help you get a clear, clean shot. A shot through the heart or lungs will take the animal down faster, causing them less pain,and ensuring that they don't run away and die someplace you can't find, thereby wasting the meat. A shot through the heart or lungs also ensures that you don't spoil meat by contaminating it with fluid or solids from the digestive tract. All in all a carefully calculated shot with knowledge of the animal's anatomy is of benefit to everyone, the animal included.
The following images were created by Dr. Bengt Röken, who worked for 38 years as a Veterinarian at Kolmarden Zoo in Sweden. Dr. Röken used euthanized zoo animals for anatomical studies and dissections. Dr. Röken has published these images previously in hunting magazines to help hunters make clean shots. He has graciously provided some of his work for this project, and though his work is not of caribou but of moose, many hunters who hunt caribou also hunt moose, and there are anatomical similarities. We hope these images will help you visualize the internal anatomy and help with efficient hunting.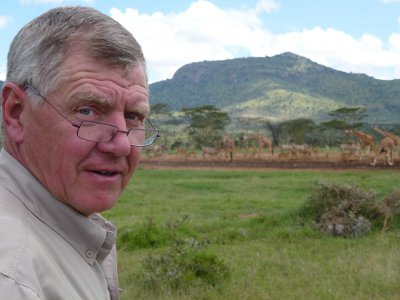 Dr. Röken, in Kenya with giraffes in the background.