If you have problems viewing this email, click here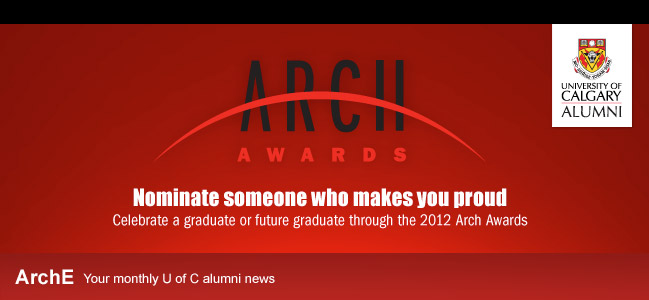 February 2012, Vol 11, No 2

Calling all Texas alumni

The University of Calgary Alumni Association is hosting an exclusive event at the Houston Livestock and Rodeo Show on March 2, 2012 and all alumni in Texas are welcome.

Alumni News

Alumnus supports ethical leadership

John Dielwart, BSc'77, is one of the founding donors of the Canadian Centre for Advanced Leadership in Business, a national leadership centre, expected to open later this year, at the Haskayne School of Business. Learn more...




Career and Job Expo

Connect with potential employers and expand your network at the upcoming Career and Job Expo on Feb. 7 at Jack Simpson Gym. Learn more...




2012 Palmer Lecture Series

The School of Public Policy presents the James S. Palmer Lecture Series featuring Larry Summers, President Emeritus and Charles W. Eliot, Professor of Harvard University, former U.S. Secretary of the Treasury and former Director of the National Economic Council for the Obama Administration. Alumni are welcome to attend. Learn more...




AlumNight at Divino

Calgary-area young alumni are invited to the first AlumNight events of 2012 at Divino on Feb. 16. This event is filling up quickly, so RSVP today! Learn more...




Winter 2012 U Magazine

In your mailbox this month is the newest edition of U Magazine. Did you know that you can also read U magazine online?





U of C News

Solar home addresses housing needs in Fort McMurray

A student-led team from the University of Calgary has been chosen to take part in the U.S. Department of Energy Solar Decathlon for the third consecutive time. Learn more...




Fostering the student experience

Reinvigorated University of Calgary Advisors' Network focuses on making connections that count. Learn more...




Student's piece to be performed at Carnegie Hall

Composer Anna Pidgorna has been selected to take part in a workshop in New York in March. Learn more...